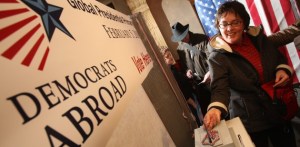 Superdelegates are generally seen as seasoned elected officials or as the kind of party apparatchiks whose natural habitat is the figurative smoke-filled room.
Not everyone fits the stereotype. Among those who will help decide the Democratic contest is a 51-year-old office administrator and piano teacher in Dublin, Ireland, who has not lived in the U.S. for more than two decades and follows the race in large part through coverage in the Irish and British media.
Liv Gibbons, a native of Los Angeles, will cast her vote at her party's convention in Denver for Barack Obama.
Ms. Gibbons has a seat on the Democratic National Committee as a representative of Democrats Abroad, the party's overseas branch. Democrats Abroad has eight superdelegates, though the vote of each one only counts as half that of a regular superdelegate.
At present, three other DA superdelegates are committed to Mr. Obama and two to Hillary Clinton; two are uncommitted. Among their number are residents of Japan, Switzerland, France, Italy and Canada.
Ms. Gibbons argues that the perspective gained by living abroad can add valuable insight to the American political conversation.
"You can see how America is viewed from abroad and how policy decisions made there ripple through the rest of the world," she said by telephone from her home in Sutton, a northern suburb of the Irish capital.
In Ireland, she added, the image of the U.S. "is generally very positive, but it has declined during the Bush years. Look at Guantánamo, look at how there hasn't been habeas corpus. America used to stand more for universal human rights, and its standing has been diminished."
Ms. Gibbons moved to Ireland in 1985, having met her future husband, an Irishman, while at UCLA. She said she had "always voted Democrat in the States," but was "never involved in Democratic politics" until becoming an expatriate.
Ms. Gibbons makes regular political pilgrimages back to the U.S. for the twice-yearly meetings of the DNC. It was at one such meeting last year that she met Mr. Obama for the first time. Though the meeting was brief, it was also testament to the importance of the personal touch in political campaigning.
The favorable impression Ms. Gibbons took away from her brief encounter with the Illinois senator was, she said, "one of the reasons" she decided to support him.
"It wasn't any big policy discussion, but he just gave me his full attention," she recalled. "I wanted him to sign some books so I could raffle them off to raise money for our organization. And he was very nice, very courteous. As he was talking to me, people tried to cut in on us and he kinda sent them to the back, saying he was helping his party. I thought that was very respectful of me and what I was there to do."
Ms. Gibbons said she had long doubted Mrs. Clinton's electability in a presidential election given that "so many people view her negatively." But it was the complaints from the Clinton camp about the running of the Nevada caucuses in mid-January that proved to be the final catalyst for her to pledge her support for Mr. Obama.
"I was going to stay unpledged as long as possible," she said, "but I wasn't that happy about that."
Since then, she added, she has received regular mail from supporters of Mrs. Clinton trying to get her to change her mind.
"I think there is a very active Hillary Clinton cell around San Francisco," she said with a laugh. "I have gotten a lot of letters from there."
Though Ms. Gibbons, like all superdelegates, was free to make up her own mind about whom to support, her choice also happens to be in line with the majority of her far-flung "constituents."
The Democrats Abroad primary ran for a week starting Super Tuesday, Feb. 5, and Mr. Obama emerged with over 65 percent of the 23,105 votes cast from 164 countries and territories.
The result in Ireland, where voters who did not wish to vote by mail or Internet could cast their ballots in a Dublin pub, was roughly in line with the overall tally. Mr. Obama received 243 votes to Mrs. Clinton's 142.
Ms. Gibbons said she was "surprised" by the scale of her favored candidate's victory.
In Ireland, she noted, Mrs. Clinton is "very popular. If the Irish people had voted, it might have gone two to one the other way. But people want a change. They want a break from the past."
Ms. Gibbons may be watching events unfold from across the ocean, but her concerns about the recent twists and turns in the race seem to echo those of many U.S.-based Democrats.
"The supporters of the candidates have become very polarized, and it is going to take some time to work on these people afterward and say, 'We're on the same side, don't even think about staying at home or voting for the Republican.'"
Not surprisingly, she feels that it's the other team that is more responsible for the descent of the campaign's tone.
"The Clinton campaign—not her personally, but the people close to her—were the ones to start throwing stones. And that's very difficult for him to respond to, because he is trying to be a healer and a uniter."
She said she hopes that the trailing candidate decides to pull out of the race well before the Denver convention. But whether that happens, she will be there to register her half-vote for Mr. Obama.