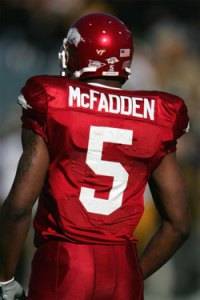 On April 26-27, the NFL will conduct its 72nd annual college entry draft. For the third time in five years, the Jets are the owners of a top-10 selection.
Here's a look at their likely targets:
VERNON GHOLSTON, Defensive End, Ohio State
Last season, the 6'3" 266-pound Gholston followed his respectable 2006 season by shattering the Ohio State single-season sack record with 14. He turned in highlight-reel performances against Wisconsin (four sacks) and Michigan (three sacks) before impressing scouts at the famous Indianapolis Combine by running the 40-yard dash in 4.66 seconds and totaling a combine-best 37 repetitions on the bench press. Although he was primarily a defensive end in a 4-3 scheme at Ohio State, some feel that he may project as a 3-4 outside linebacker as well. He is considered a hard worker and a low character risk.
Why you want him:
He brings the rarest and most sought-after quality in a defensive player: the ability to rush the passer. Last season, the Jets' anemic pass rush ranked 25th out of 32 NFL teams with only 29 sacks, seven of which came in one game against the Steelers. They are in desperate need of more quarterback pressure, and Gholston purports to be the best rusher in the draft.
Why you don't:
He can't play defensive end in the Jets' 3-4 scheme and has very little experience at outside linebacker, where he would have to learn to drop into coverage.
The bottom line:
Gholston presents an intriguing blend of skill and performance. He would certainly upgrade the Jets pass rush as a 3-4 outside linebacker, but is general manager Mike Tannenbaum ready to sound the death knell for incumbent Bryan Thomas only one year after signing him to a contract worth over $25 million?
CHRIS LONG, Defensive End, Virginia
Fresh off a stellar senior season Virginia, the son of former Raiders all-pro Howie Long is slated to be one of the top 10 picks in Saturday's draft. The younger Long is everything one would expect in an NFL son: a self-motivated, well-coached football junkie with a great motor and terrific intangibles. Last season, he dominated the ACC, posting 14 sacks and 19 tackles for loss before becoming the first player in school history to have his number retired while still enrolled. He is as polished a defensive prospect as there is in this draft and has experience in a 3-4 defensive scheme. In addition to superior on-field performance, Long has displayed the kind of sterling character that is increasingly prized by teams terrified at the prospect of selecting the next Michael Vick or Pacman Jones.
Why you want him:
Long is a disciplined, NFL-ready player whose extensive collegiate experience is buttressed by the incalculable advantage of his father's tutelage. He was an excellent run defender at the collegiate level and has posted credible sack numbers despite lacking great quickness and natural pass-rushing skills. Long figures to make an easy transition to the next level, where he will provide immediate help on any team's defensive line.
Why you don't:
There's no denying Long's on-field performance or intangibles, but he might lack the size and athleticism to be an elite end at the next level. Listed at 6'3" and 273 pounds, he likely plays closer to 260 pounds and may not hold up particularly well at the point of attack. And although he played in a 3-4 scheme at Virginia and thus has experience in a Jet-like scheme, he is likely too small to function as a 3-4 defensive end in the NFL.
The Bottom line:
Long doesn't have a place in the Jets' 3-4 system. He is probably too small to play defensive end and too slow to make an impact at outside linebacker in a 3-4 scheme. The Jets have tried and failed to convert several other 4-3 players to their 3-4 scheme. Will they go back to the well again?