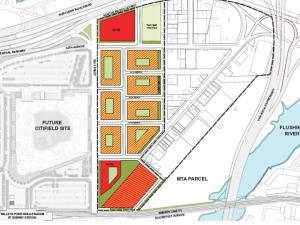 An alternative studied in the Willets Point environmental review suggests a possible compromise strategy for the Bloomberg administration in its contested effort to redevelop the 61-acre industrial area by Shea Stadium.
The proposed redevelopment has turned into a big political quagmire, with elected officials on the City Council jumping at the chance to bash the city about its proposal. While a group of current and former elected officials met at City Hall today to hail the plan, the project clearly will take some convincing in the Council.
The alternative plan, studied in the draft environmental impact statement, calls for acquiring the land and building the project, in two phases. The plan includes acquiring the land on the western portions of the site first, where most of the smaller automotive-related businesses are based, while the owner-occupied businesses on the eastern portion would have more time before they sell their land. The plan would be the same in size, though the first half would be done by 2013, according to the plan studied, while the second half would be done by 2017.
From the EIS [PDF]:
This would allow the City additional time to find suitable relocation sites for the District's larger businesses which are concentrated in the eastern portion of the District and which have more specific relocation needs than the District's smaller businesses. It would also spread the cost of property acquisition and infrastructure improvements over time.
For now, the city is intent upon proceeding with the initiative as planned, though it can't go anywhere without support from Council, where some members seem to be reveling in the spotlight as they criticize.