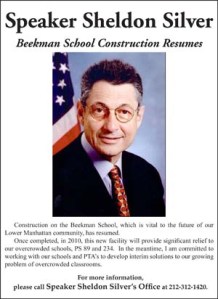 With all the talk about Sheldon Silver's efforts during the congestion pricing fight to keep his members happy, it's easy to overlook the fact that he's been quietly tending to his other constituents—the ones who will, barring a shock upset, vote to return him to his seat on the Lower East Side later this year.
A reader passed along this ad for Silver, which appeared in this week's issue of Downtown Express.
A spokesman for Silver's campaign said it was paid for by the campaign and ads like this have appeared throughout the past decade. (His campaign finances show he has run ads as early as February in any given year.)
Silver is facing two Democratic primary challengers this year, and may have inspired a billionaire mayor (and his top political aide) to look at the race anew.
Here's spokesman Jonathan Rosen's e-mailed explanation:
"As part of a longstanding effort to keep constituents informed about news in the community, Friends of Silver places a weekly ad in the Downtown Express and other community papers. We've done this for more than 10 years and we're particularly excited about this one. After leading the effort to build the Beekman School and relieve overcrowding at PS 89 and PS 234, Assemblymember Silver was really pleased to let Lower Manhattan families know that construction was back underway. On top of a record increase in aid to New York City schools, this has really been a banner week for parents of public school children in Lower Manhattan."