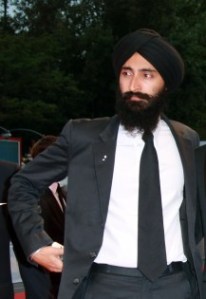 "Have you sat in that car outside? It's insane!" shouted actor, jewelry designer and general man-about-town Waris Ahluwalia when the Daily Transom cornered him last night at the Hermes store downtown. He and a few other out-at-night types like Kristian Laliberte, Annabel Vartanian, Tinsley-sister Dabney Mercer and Kelly Killoren Bensimon had shown up for another one of those wearying publicity parties, but he was full of vigor, and apparently unaware that his celebrity status is what allowed him to visit the Bugatti Veyron luxury car at the curb outside the store. The car, a joint production between the automaker and the fashion house, was the guest of honor this night. The car retails at $2.3 million.
Given Mr. Ahluwalia's close friendship with Wes Anderson—he has made appearances in several of the director's hyperstylized films—we thought we'd ask him how Mr. Anderson is doing.
"He's great! He's living in Paris and we were just there for the French premiere of The Darjeeling Limited which just happened like six years after the American release."
And what was it like shooting in India? "It was like a military operation," Mr. Ahluwalia said. "We were on a moving train on Indian national railways. We had to come dressed and ready to set since there were no trailers and if you were late you missed the set, cause it literally took off without you. And we had to account for things like cow crossings across the tracks!"
Since finishing filming and promotion for The Darjeeling Limited, Mr. Ahluwalia completed shooting for an independent film called Rosencrantz and Guildenstern Are Undead. "It's kind of about vampires and Shakespeare. Oh, and it's based on a Tom Stoppard play."