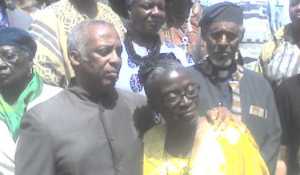 The rally to launch the state assembly campaign of Inez Barron, Charles Barron's wife, just got underway on the steps of City Hall.
In the audience right now is Charles Barron's controversial chief of staff, Viola Plummer, and MTV star-turned-hip-hop writer, and now Brooklyn congressional candidate, Kevin Powell.
Mrs. Barron is seeking Diane Gordon's assembly seat, after Gordon was convicted on bribery charges.