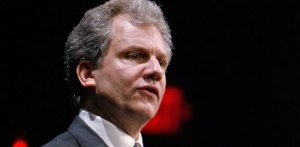 Arthur Sulzberger, Jr., who is speaking right now at the Times Building for the paper's annual shareholders meeting, declared the newspaper is not for sale. Choire Sicha sends in this dispatch, via text:
Sulzberger: "This company is not for sale." Media reports are "ill-informed."
Newsday, which is close to being sold to Rupert Murdoch, is "our closest competitor" on the web.