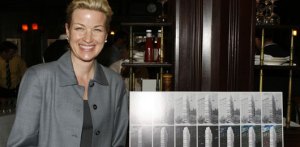 Brooke Astor's duplex at 778 Park Avenue, a perfectly trimmed, scarlet-lacquered, canonical Upper East Side abode, officially has a broker, eight months after Astor's death at age 105.
Her 83-year-old son Anthony D. Marshall, who has pled not guilty to charges that he stole from his ailing mother, sat down with his wife, Charlene, in the inherited duplex just a few weeks ago to interview brokers from five of the city's top brokerages. They picked Leighton Candler, the Georgia-accented Corcoran senior vice president.
"Oh, very easy!" Ms. Marshall told The Observer when asked about the decision. "She's very attractive, she's very nice, she works well with other people. … She's smart, she's dynamic, she works hard. She's very funny, she's from the South—yay! Good girl, like me." (Ms. Marshall has a nice soft twang, too).
If it weren't for the famous court papers filed by Astor's grandson, Philip, which claimed she was wallowing in the cold duplex in torn nightgowns, the apartment would have a gleaming, glinting provenance. Still, thanks to Astor's decades as a Park Avenue deity, not to mention Albert Hadley's legendary scarlet library, the apartment could very well sell near its $46 million price once it hits the market around late next week.
Ms. Candler happens to be the broker that brought hedge-fund star Scott Bommer and his wife to an uncombined duplex at 1060 Fifth, which sold in January for $46 million exactly, a co-op record. At the Bommers' old building, 1040 Fifth, Ms. Candler sold Jackie Onassis' old $30 million apartment for billionaire oilman David Koch in 2006.
"And then, of course, I represented the Lehman estate at 2 East 67th Street," Ms. Candler said. She also tried but failed to sell pornographer Bob Guccione's uptown mansion, though she said that wasn't mentioned in her Astor interview because it wasn't a co-op.
After that talk, the Marshalls asked for a record of Ms. Candler's sales from the last four years. "We just trotted out there and printed it out. This was quite factual, it wasn't, 'Did I tap-dance better than anyone?' They were very judicious. And of course they cared very much that you're someone who would present the property well and speak well and all those nice things."
The place will need just a tad bit of work. "Probably very little, you know, washing the windows and dusting the furniture," Ms. Candler said. Potential buyers haven't been in yet, but old visitors to the apartment from Astor's entertaining days have made quiet inquiries. "Because the news hasn't reached Europe, I think, the first calls have been from wonderful New York families." But are they on par with the Astors? "Is anyone on par with the Astors?" the broker said.
As it happens, she comes from Atlanta's Coca-Cola Candler family, though she had never been to the apartment before. "I unfortunately did not travel in Brooke Astor's social circles," she said. "I was never invited to tea with the pope."