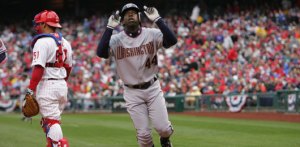 During pre-game warm-ups Tuesday night, Lastings Milledge was a whirlwind as he prepared to show Shea Stadium that the Mets' decision to deal him to the Washington Nationals this past offseason was a huge mistake.
He launched batting practice bombs into the left field stands, several landing in similar spots to the two home runs he hit in last season's second-to-last game. Then he raced to the dugout, grabbed his glove, and shagged fly balls. When few fly balls came his way, he asked a Nationals coach to hit him ground balls, then pop-ups.
His preparation paid off. But though Milledge doubled and walked, his teammates provided little support.
He said after the 6-0 loss to the Mets that it felt like "nothing different" as he faced the small group of reporters. Washington is 4-10 after losing 10 of 11 games due to pitching, not Milledge—just like the September collapse of the 2007 Mets.
"Not really different—we want to win, man," Milledge said in a voice both calm but clearly frustrated. "We're not caught up in making people look bad."
And while the 4-10 start has a number of Washington players looking bad, Milledge has been a standout, excelling in his expanded role of everyday center fielder. On the heels of his early success, even Shea's fans, who adored Milledge, now booed him—he was a dangerous player for the enemy.
Milledge has hit for the Nationals—his season line stood at .308/.351/.442 coming into Tuesday night's action. And unlike his time in New York, Milledge has earned praise from Washington's manager, front office, and even his Nationals teammates.
"I like what I've seen so far," an upbeat Manny Acta said, despite the score, as he reclined behind his desk in the visiting manager's office following the game. "He's been one of the bright spots for us."
Milledge wasted no time reminding the Mets why they took him in the first round of the 2003 draft, getting ahead of pitcher Mike Pelfrey and then lacing a double to left field. For Milledge, it was a simple question of knowing.
"It's understandable. I know him, I know his tendencies," Milledge said of starter Mike Pelfrey. "I knew what he was coming with, and that was that."
Except that wasn't that—a few pitches later, he was called out trying to steal third. (Replays showed that he beat the throw.)
"I really wanted to get to third," Milledge said. "We've been having trouble getting people in from second."
Unlike the way Willie Randolph might have reacted, Manny Acta did not criticize his young player for ill-advised aggressiveness.
"He set the tone early," Acta said of Milledge. "At least he didn't go early in the count—he gave [slumping third baseman Ryan] Zimmerman a chance to drive him in. I would rather he be aggressive than not aggressive."
Milledge's development also manifested itself in the third inning, with Washington trailing 2-0 and two runners on. After his hard-hit ball in the first inning, Pelfrey was shy about throwing Milledge a strike. But rather than force the issue, chasing a pitch out of the zone, Milledge drew a walk to load the bases. It was the at-bat of a veteran—one of only two walks Pelfrey allowed all night.
Pelfrey did get the better of Milledge in the fifth inning, striking him out on two of the best sliders he threw all night. By the eighth inning, with Washington well behind, Milledge chased an Aaron Heilman fastball out of the zone.
It marked one of the few times Milledge has let his expanded role force him into a bad decision. It was the first multi-strikeout game Milledge had all year—he'd struck out just five times in his first 52 at-bats, a remarkably low total for a hitter with power.
He is clearly as happy to be an important part of the Nationals as his new team is to have stolen him from the Mets.
"Last year, I wasn't in a position to really do anything, to carry a team," Milledge said. "That wasn't my role last year—there were a lot of guys who did carry that team. This year, I'm playing a lot more important role here. I'm a catalyst—I may not carry the team, Zimmerman will carry the team—but I'm the catalyst for this team."