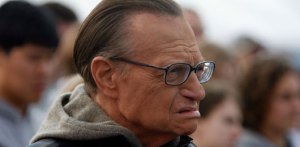 CNN fixture Larry King's 9-year-old son Chance Armstrong King plays Beverly Hills Little League. King père is the coach of Chance's team.
On Monday, March 10, during a heated game, the suspendered talk show host apparently got into a confrontation with one of the league's umpires. "[Mr. King] was making a fool out of himself as a manager on the field, talking in the middle of the field in the middle of plays," reported a source close to the action.
According to this source, Mr. King was told by the umpire in question to "regroup" and calm himself, and he did not respond well to this. Rather, the informant said, he continued arguing and was then relegated to the bleachers, where he continued to make noise, and was finally forced to watch the game from the outfield's periphery.
An eyewitness contradicted this account somewhat, saying he did not recall the journalist's movements throughout the game, but that he was certain Mr. King had not been banished. "He absolutely did question an ump's call," said this spy. "He was asked to cool it." But there was no profanity used, nor was subsequent disciplinary action brought against the celebrity dad. "He's one of the valued volunteer coaches; I'm pretty sure that he's coaching today," Mr. King's champion said. "I like his Bronx spiciness!"
A rep for the journalist (who was actually born in Brooklyn) did not return a call by press time.
Young Chance is the son of Mr. King, 74, and his sixth wife, actress Shawn Southwick, 49. They were married on September 5, 1997, in a Jewish–Mormon interfaith ceremony.