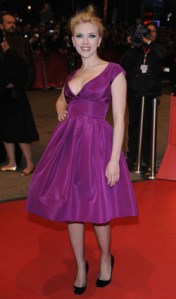 Plump-lipped, long-legged, well-paid starlets that don't worry about making any money from their real estate sales might be Manhattan's only hope for reversing our absurdly high-climbing prices.
According to city records, 23-year-old Scarlett Johansson just sold her duplex loft at 66 Leonard Street for $1,898,000, even though she paid $1,950,000 back in January 2006. That kind of loss, even if it's just $52,000, is basically unheard of: Consider that an apartment at 15 Central Park West that closed last December for $6.9 million was resold in March for twice that amount, $13.8 million.
Usually it takes a billionaire to be blasé about luxury real estate. When Slim-Fast founder S. Daniel Abraham's family sold a $14 million uptown spread for just $700,000 more than they'd paid a few years back, a family member told The Observer: "A lot of thought did not go into this, you know. We're not looking for the last dollar in every investment."
If Ms. Johansson doesn't share that charming financial ennui, she needs a better real estate agent. According to brokerage databases, the apartment's listing was handled by her 31-year-old brother, Adrian. He didn't return calls to his cell phone.
The actress must have been hoping for a profit when the duplex went on the market in May for $2.195 million. According to that listing, a lofted bedroom looks out onto the 22-foot-high living room and its limestone fireplace. Then there are blond Hollywood details like hand-painted Tuscan walls, Brazilian cherry wood floors and a master bathroom with a five-fixture shower and "European pod-shaped soaking tub."
The buyer is Richard Gormley, who was hired by Lazard in 2006, as a managing director, to lead the very significant-sounding alternative capital finance group. "I'm only comfortable saying so much, but basically I lived next door; it was simply a question of expanding if the apartment was available," he said in between meetings in L.A.
"I approached them initially. It took a while to agree to the terms of the deal." When this reporter pointed out that Mr. Gormley bought the duplex for less than his seller had paid—a Manhattan real estate dream—he snorted, "And?"
Ms. Johansson, who stars in her third Woody Allen film this year, won't be ruined by her $52,000 loss to that finance guy: She can comfort herself in the seven-bedroom L.A. house she bought last year for $7 million.