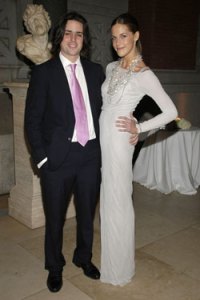 Spring is in the air, the birds are chirping and the town's notable couples are hooking up and splitting up like wild dogs on the prairie.
In recent weeks, socialites Byrdie Bell and Bingo Gubelmann split. "It was perfectly amicable and civilized," said a friend, "Maybe it was just their names—they knew it would never work." That publishing-scion union made in heaven, Amanda Hearst and Winston Lapham, is over (Ms. Hearst is moving to Spain and wants to be "fancy-free," said an intimate), and Born Rich star-turned-jailbird Luke Weil and his gal, Maggie Katz, are also totally dunzo.
But take heart! Cupid's arrow has hit lit It Boy Dana Vachon and glamorous masthead mainstay Phoebe Eaton, oft-compared in looks to the model Christy Turlington.
The couple met at the party for Lipstick Jungle, and the attraction appears to have been immediate. The next day, Mr. Vachon, 29, took Ms. Eaton, a longtime established New York writer and editor, for a stroll through the Museum of Natural History. It was a bold move for the young author, who recently sold a pilot to HBO about a fallen professional golfer who starts a new line of vodka called Como No, which means "Why not?" in Spanish.
"After years of reckless bachelorhood, I was not schooled in the ways of the afternoon date," Mr. Vachon confessed to the Transom over the phone. The twosome parted with a peck on the cheek. "Phoebe kept texting me with references to Fitzgerald, and meeting under the Biltmore Clock, and then we began spending a lot of time together," he said. Mr. Vachon had been living in a small room at the Chelsea Hotel, whose aesthetic Ms. Eaton likened to a mix between a Piedmont villa and vomit, he said amusedly. They began spending more time at her place.
"I keep hearing the Bobby Short song 'I'm in Love Again,'" Mr. Vachon said, meaning the spirited version in the Woody Allen film Hannah and Her Sisters. He broke into song. "Why am I like a racehorse running wild, why am I in a state of ecstasy …"