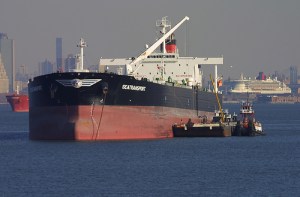 With all the pretty new parks rising (or at least planned to rise) along the city's waterfront, one might think that shipping uses were simply a thing of the past.
Not exactly, says a city-commissioned study of "maritime support services," which claims the port of New York has a major shortage of dry docks and tie-up facilities for ships, so much so that it recommends nearly tripling the capacity of drydocks by 2016.
Shipping, and therefore demand for dry docks and other repair services, is on the rise in the area; the lack of dry docks, where ships go for repairs, is costing the local industry up to $150 million in lost revenue over a five-year period, according to the study.
Of course, dry docks take up space, and waterfront land is pretty hotly desired by landlords and park advocates, and container shipping and repair facilities are a decidedly unsexy use. The two uses often conflict: a graving dock (one of few large, expensive dry docks in the city) in Red Hook was filled in last year to make way for an IKEA, dismaying many waterfront advocates, but pleasing cheap Scandinavian furniture advocates.
Still, in releasing the study, the Bloomberg administration (the same Bloomberg administration that opened up miles of the Brooklyn and Queens industrial waterfront to housing and parkland) seems to be cautioning that a balance is needed.
From the study:
Accommodating the repair and maintenance segment of the maritime support services within port requires the industry's investment and the government agency's assistance in investments, zoning, allocation of space, permits, and others. Without this assistance the maritime support service firms would be unable to provide the services, and segments of the support service industry would become a bottleneck on the regional economy. Furthermore, in the long run it could compromise the Port's standing and reputation within the industry.