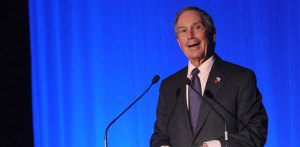 Delivering the keynote to Newsweek's Second Annual Global Environmental Leadership, the day after the pillar of his sustainability plan failed, Michael Bloomberg briefly chastised the New York State Assembly before reminding the conference that there are more components to PlaNYC than congestion pricing.
Here's an excerpt:
"But unfortunately, as most of you know, yesterday the majority caucus in the Assembly chose not to bring the governor's congestion pricing bill to a vote – effectively killing it.
[skip]
"That's not leadership.
[skip]
Congestion pricing was important; it was new; and it was controversial, because we would have been the first city in the nation to implement it.
"But let me make something crystal clear this morning. It was one of only 127 items in the PlaNYC agenda. The other 126 initiatives are important too. Many of which can be achieved administratively. They require no approval by any other level or branch of government.
Full speech, as prepared for delivery:
"Thank you, Lally – and also Ann, and Professor Beach. Good morning, everyone. I want to thank Newsweek for inviting me to keynote their second annual 'Global Environment Leadership Conference.'
"One of the absolute highlights for me last year was appearing on the cover of Newsweek. I don't know if I helped sell any extra copies – but it made my mother very happy. Now, the keynote speaker at last year's conference was terrific – and measuring up is going to be a very tall order – in more ways than one. Governor Schwarzenegger has a couple of inches on me.
"Still, Arnold calls me his 'soul mate' – and that's not just because we're both fearless, internationally famous action heroes. It's also because we share a common outlook about government. And we're both basically optimists. We see what people can accomplish when they work together, and that convinces us that real progress is possible. And that includes progress on the environmental issues that this conference will be addressing.
"Now, for far too long, environmentalism has gotten pitted against economic development. But that's a myth that ought to be laid to rest. Arnold talked about that at last year's conference. He spoke about how we can protect the environment and also protect the economy.
"Today, I'm not only going to second that idea, but take it one step further. Because the fact is that we can actually improve our environment while growing our economy. Certainly, growing our economy is a major concern in Washington, and throughout the nation, too. It's not going to be easy or simple. It's going to require leadership in the public and private sectors and change in our public and private lives.
"One thing that I've learned in government is that there's always a good reason to do nothing. But business – and government, too – both increasingly recognize that going green is the best – indeed the only – pro-growth strategy, not just for the long term, but in the short run as well.
"The other participants in today's conference can vouch for that, too. Let's start with the private sector, where today green business is clearly good business. Just ask the representatives here today from Starbucks, Saatchi & Saatchi, Stoneyfield Farms, and Fetzer Vineyards, who will be on a panel entitled 'Profitability through Sustainability.'
"They'll tell you that going green helps the bottom line by reducing energy consumption and lowering energy costs. It's also a plus in recruiting and retaining top employees – men and women who are often very environmentally conscious and active. And in today's highly competitive economy – where the best people can and will go where they feel most comfortable – that's an increasingly, and even overridingly, important factor.
"Cities are intensely competitive with one another, too. Increasingly, quality of life provides the winning edge in that competition. It's often what separates the front runners from the also-rans in the global economy. Believe me, I know where I want New York City to be in that race. And I know that – as big as the benefits of environmentalism are, and as big as the risks of climate change if we don't act – a lot of people would still rather do nothing.
"It takes courage to ask people to change – even if it won't really cost them much. Political leaders today are afraid of their constituents. As Evan Thomas notes in this week's Newsweek, 'it takes a very great leader to extract sacrifice from the voters, but if we wait until the water starts lapping over Manhattan to really do something to affect climate change, it will be too late.'
"So we need a basic spirit of optimism – to believe that we can overcome the challenges we face. And we need the honesty to look at our problems. And we need the honesty to tell the voters what it will take to solve them. Optimism, honesty, and courage – this is what I think defines our environmental plan for New York City, 'PlaNYC,' which we unveiled on Earth Day last year.
"In fact, PlaNYC began as an effort to address the problems caused by success. It started from the assumption that New York City's population will grow to more than nine million people by the year 2030. We're very positive about that outlook, because population growth means economic growth.
"The growth we're forecasting will produce three-quarters of a million new jobs and billions of dollars worth of new economic activity. It will keep New York in the forefront of the world's cities – a place where people want to live and where businesses believe they must be. So PlaNYC is about managing and sustaining growth.
"We saw that in order to stay ahead of the curve, we'd have to rebuild an aging infrastructure for delivering the water and energy our growing city needs. We'd need to substantially broaden what was already the most ambitious affordable housing program ever undertaken by an American city. We'd have to enlarge the nation's largest and best municipal park system, and also plant one million new trees throughout our city.
"We'd also have to dramatically expand our city and regional mass transit system. New York built more than 700 miles of subway lines in the first half of the 20th century; since then, expansion of our subway system has essentially stopped. And during the 1960s and 1970s, so did maintenance of the system. The subways went to seed – and the rest of the city nearly followed.
"Since then, we've brought our subways back. But in order to sustain our economic growth, we have to invest in new subway lines and new mass transit service. That's why in December, we broke ground on a project – funded with City dollars – that will extend subway service from Times Square to a district of warehouses and rail yards on Manhattan's Far West Side. We're doing that because the time-honored lesson of New York transit history is 'build it and they will come;' Build new subway lines to undeveloped areas, and new businesses, housing, jobs, and tax revenue for the City will follow.
"That investment is good as far as it goes; it just doesn't go nearly far enough. We've identified $50 billion worth of other essential transit projects for our growing city and region. But we need a way to finance them. So we decided to try a bold new approach – one that's been in the news quite a bit recently: Congestion pricing – charging a fee for driving into the busiest part of the city during peak hours and dedicating those revenues to mass transit improvements.
"I began my remarks by describing an approach to government that reaches
across political divisions and builds consensus. And our effort to enact congestion pricing was a prime example.
"When we first proposed it as part of PlaNYC a year ago, it had very few public proponents. I'm glad to see one of them, the incomparable Peggy Shepherd of West Harlem Environment Action, here today. But then more people looked at the facts, and they found what she, and we, found: That congestion pricing is a market-based solution to unsnarling the traffic tie-ups that sap $13 billion a year from our regional economy and foul the air we breathe. And in the bargain, it also could create a dedicated fund for mass transit improvements.
"A coalition of liberals and conservatives; environmentalists and business leaders; developers and preservationists: People who in the past haven't been able to agree on the time of day agreed that it was time to give congestion pricing a try.
"Our City Council approved congestion pricing last week. And it had the support of four of the five top leaders in our state: Governor Paterson, who submitted a congestion pricing bill, the majority and minority leaders of the State Senate, and the minority leader of the lower house of the State Legislature, the Assembly.
"But unfortunately, as most of you know, yesterday the majority caucus in the Assembly chose not to bring the governor's congestion pricing bill to a vote – effectively killing it. They complained about the inconvenience – even though most New Yorkers don't drive. They said it hadn't been studied enough – despite an entire years' worth of analysis, following a process they had established. And ultimately, they didn't even have the courage to vote on it – they just killed it in a back room.
"That's not leadership. New York's need to unsnarl congestion and create new mass transit are problems that aren't going away. And the coalition that was developed around congestion pricing won't melt away. The time for action can't be postponed indefinitely.
"We're also not waiting for that time – or for any future time – to continue moving forward on the rest of PlaNYC. Congestion pricing was important; it was new; and it was controversial, because we would have been the first city in the nation to implement it.
"But let me make something crystal clear this morning. It was one of only 127 items in the PlaNYC agenda. The other 126 initiatives are important too. Many of which can be achieved administratively. They require no approval by any other level or branch of government.
"And we're moving aggressively on all of them – Including initiatives that address the most serious problem that we all face: Global warming.
"The facts are in and the science is clear: Global warming is a reality. We may not know now precisely how much our human activity is contributing to climate change, but we can't afford to wait to find out. On this issue, I agree with New York Times columnist Tom Friedman: 'It's too late for later.' So the time to act is now.
"That's exactly what we're doing in New York City. As I've said, our population is going to grow to more than nine million people by 2030. And we've set another goal for 2030, too: Decreasing our greenhouse gas production by 30%.
"We're attacking that problem systematically and comprehensively. We know that cars and trucks account for roughly 20% of greenhouse gas production in our city. And we've already taken a major step in reducing those greenhouse gases. We're turning the nation's largest fleet of yellow cabs green by 2012, by requiring that they be hybrids or hybrid-equivalents.
"At the same time, we're intensifying our efforts to curb the other 80% of greenhouse gases New Yorkers produce. That includes an on-going major public-private partnership to make the 900,000 buildings in our city more energy-efficient. It will involve stepped-up efforts to replace old, heavily polluting power plants with new and more efficient ones. And it will mean making greater use of clean, renewable power.
"In line with that, let me announce that today we're launching a process that will, by roughly this time next year, more than double the production and use of solar power in New York City. It involves our designating a private developer who will purchase and install two megawatts of solar power capacity to on the roofs of City-owned buildings. That's the equivalent of what it would take to power some 2,000 homes – although our plan is to use that solar power to help operate a number of major City facilities, including as many as five high schools, where our goal is to incorporate the solar installations into the curriculum.
"I'm going to go into more detail about this exciting new initiative when I speak to reporters later – but now, I want to acknowledge the U.S. Department of Energy in helping us develop this plan – and let me especially thank Assistant Secretary of Energy Alexander Karsner, who is with us today.
"In addition to that partnership, we're also working with cities across the nation and around the world, learning from their experiences, sharing our best practices. And we're urging, in no uncertain terms, stronger clearer national leadership on global warming, too. Because America is a great nation – and a great nation leads by example.
"That means that on climate change, we ought to be leading the way. Not waiting for others to act first, not bowing to special interests, not making policy by polling or political calculus, not hoping that technology will rescue us down the road, and not forcing our children to foot the bill.
"Leadership is about facing facts, making hard decisions.., and having the independence and courage to do the right thing, even when it's not easy or immediately popular. Global warming is a test of America's leadership – and not just on the environment. Climate change is a foreign policy issue, because our dependence on foreign oil entangles our interests with tyrants, and increases our exposure to terrorism.
"It's also an economic imperative, because clean energy is going to be the oil gusher of the 21st century. Jobs are on the line here – good jobs of every kind: Farm jobs. Factory jobs. Engineering jobs. Sales jobs. Management jobs. We should be capturing those clean energy jobs for our nation – now.
"To do that, and to put the brakes on greenhouse gas pollution, I think we need to face facts and address four basic problems.
"First, we need to dramatically step up energy research and development.
"Second, we need to stop subsidizing corn-based ethanol, a giveaway to agribusiness that's ruinous both environmentally and economically – contributing to the 'sticker shock' Americans are experiencing at supermarket checkout counters.
"Third, we need to get truly serious about requiring Detroit to build energy-efficient cars and trucks. If they don't, they'll just fall farther behind their foreign competitors.
"And fourth, we need to treat carbon emissions as a real cost of doing business.
"I believe the American people are prepared to accept our responsibility to lead by example. Our President and Congress must begin to show that leadership in a bi-partisan fashion.
"Taking that path won't be an easy choice. It will demand courage from our elected officials. It will require changes in personal behavior from all of us. But once we begin walking that path, the rest of the world will recognize that Americans are once again fulfilling our historic mission of leadership. It will show that America's leaders actually have the courage to lead and that Americans have the courage to do the right thing.
"And it will, like today's conference, send a powerful message of hope to people everywhere who are working to save our good Earth for th
e children who will inherit it from us.
"Best wishes for a very successful day here at Georgetown. Thank you all very much, and God bless you all."