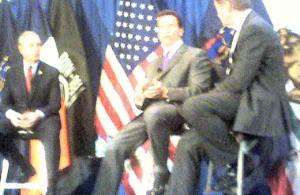 Michael Bloomberg and Arnold Schwarzenegger spoke with Charlie Rose about the economic and political issues they're facing at the annual Card Luncheon, which is going on at the Four Seasons in midtown right now.
Bloomberg acknowledged the economy is tough, but said that because the cost of construction is coming down, "if you want to build a building, now is the time to do it."
Schwarzenegger thanked the mayor for donating money to push the governor's plan for redistricting in California.
Bloomberg said he'd like that to happen here, and that if legislators can't be convinced to do it, he could "maybe shame them into doing it."
Here are the priorities listed on this year's New York City Card, according to a release sent out by the mayor's office:
· Increased Support for Infrastructure: Maintenance of the City's infrastructure is vital to the economic well being of New York City and the whole nation. Increased funds to repair transportation, water and sewer systems are needed to ensure long-term reliability and quality of our infrastructure.
· Homeland Security: The City is calling on Congress to increase Homeland Security and Bioterror funding and allocate all funds based on terrorism threat, not pork barrel politics.
· 9 /11 Worker and Resident Health: The City is seeking a minimum of $150 million annually in federal funds to ensure that those who are sick or who may become sick as a result of the September 11, 2001 terrorist attacks have the first-rate heath care they deserve.
· Affordable Housing: State and Federal legislation is required for targeted and effective financial incentives to produce affordable housing for New Yorkers as part of Mayor Bloomberg's plan to create and preserve 165,000 affordable units by 2013, the most ambitious municipal housing plan in the country.
· Post 9/11 Tax Trade-In: Congress must take the final steps to enact legislation that would allow the City to secure the final $2 billion in Federal funds previously committed to allow them to be used for transportation projects in New York.
· 2030/Climate Change: In 2007, Mayor Bloomberg unveiled PlaNYC 2030, the most comprehensive effort ever by an American city to attack global warming. Federal and State legislative action is required to create financial incentives to address the City's aggressive plan to reduce greenhouse gas emissions in New York City 30 percent by 2030, improve energy efficiency and support mass transit.