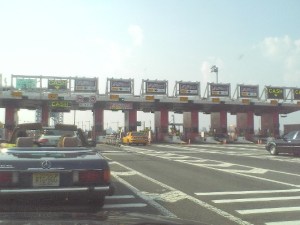 A little over a month after the Port Authority hiked tolls on its six bridges and tunnels, there has been a 2.9 percent drop in the number of vehicles commuting amid Manhattan, New Jersey and Staten Island– more than the 2 percent dip the agency expected and more than the 2.3 percent dip that followed the previous toll increase in 2001, according to The Times' CityRoom blog.
More than 350,000 cars and trucks used the bridges and tunnels on an average weekday before the toll increase. Since March 2, usage has dropped by over 10,000 vehicles every day. In the past, it's taken between as long as nine months for traffic to drop following a toll increase.
Why such a quick drop this time around? Greater toll increases.
Drivers using cash now pay $8 instead of $6, a 33 percent increase. Drivers using an E-ZPass during peak hours used to pay $5, or a $1 discount compared to the cash toll. That discount has disappeared: They now pay $8 also. Drivers using an E-ZPass during off-peak hours pay $6 instead of $4.
We think the news is actually a belated coup for congestion pricing and its staunchest advocate. Wasn't Mayor Bloomberg always saying that more commuters would leave their at cars at home if it got too expensive to drive them into Manhattan?