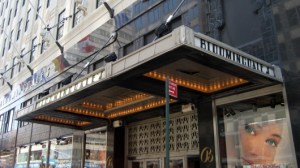 We've got good news for the die-hard fashionistas who had been plotting a lunch-time run on Bloomingdale's today before a possible strike tomorrow. It's been averted (for the time being at least)!
Womens' Wear Daily reported today that the management of the 59th Street flagship reached a deal with leaders of the Local 3 branch of the Retail, Wholesale and Department Store Union that "eliminates any possibility of a strike being called against the retailer."
Bloomingdale's and RWDSU have been trapped in negotiations over a new contract for the 2,000-plus workers at the Midtown branch since the previous one expired on March 1. Last week, the union authorized an employee strike if an agreement was not reached by the May 1 extended deadline.
Though the main sticking point of the talks, health care coverage, has not yet been resolved according to the RWDSU spokesman, the rest of the four-year contract has been decided and the union has allowed two more weeks to hammer out the health plan.
That was a close one. Bloomies' last brush with organized labor activism was an employee walkout 43 years ago.