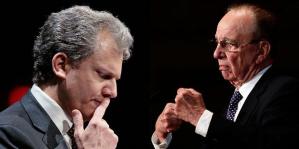 Newsweek gives big play this week to Rupert Murdoch's early maneuvers at The Wall Street Journal. Point: He's the general who has declared war on The New York Times.
This is something we've been talking about around here for a while now, and rumors of war aside, we haven't quite heard the first shot around here.
That doesn't change much with this week's story, but there's still lots of juice here.
Here are the highlights:
An anecdote about how Norman Pearlstine and John Huey were in his office and pointed Murdoch to a Fortune article about how Dow Jones could be bought for $60 per share. (Newsweek here takes the opportunity to report that the editors of Time sought protection from Page Six while they were on the verge of outing thier source for the Valerie Plame storyline.)
Rupert Murdoch is no fan of Arthur Sulzberger Jr., publisher of the Times. But the note he famously sent to "Pinch"—"Let the war begin"—has really been misquoted (something we'd heard, too …) Here's the passage:

Murdoch also contends that Sulzberger misled him about the tone and content of an upcoming Times editorial about him when the two men encountered each other at a party aboard Internet mogul Barry Diller's yacht to celebrate Murdoch's Dow Jones victory. The way Murdoch tells it, Sulzberger assured him that he needn't worry about the editorial, which would be running in the next day's paper. But when he opened the Times, Murdoch cringed. The editorial reprised an oft-repeated anecdote about the mogul's once booting the BBC from a Murdoch-owned satellite television service, Star TV. The accusation was that Murdoch had pulled the BBC's news service as a reprisal for stories it carried critical of the Chinese government; at the time, he was trying to curry favor with the Chinese to ease his entry into the exploding Asian market. In an interview, as he has previously, Murdoch contended the network was pulled for financial reasons, not for its China coverage. Murdoch fired off a letter to Sulzberger, the content of which still rankles the Times scion: "Dear Arthur, It was a pleasure to see you last night … I don't know how many times I have to state that I didn't take off the BBC … Let the battle begin!"

Michael Bloomberg to buy the Times? It's a point Newsweek emphasizes, saying that "top associates" to the mayor are encouraging him. (Maybe the same ones "encouraging" him to run for president! Mostly by talking to reporters?)
WSJ.com might be redesigned later this year.
Marketplace will be redesigned today.
There's an on-the-record interview with Murdoch, but he conducted this interview without getting himself into any trouble.