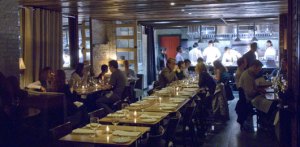 Back in the '60s, when it was the 8th Wonder club, Jimi Hendrix played here. Now, there's an open kitchen where the stage used to be, all bright lights, green tile and polished chrome, manned by cooks in white jackets and black baseball caps.
At the white bar in front, which has a picture window giving onto the corner of Macdougal Street, a glamorous young crowd knocks back cocktails named in honor of the rock star who died long before they were born. Electric Ladyland is a heady mix of pisco, rose jam and Champagne; 8th Wonder blends bourbon with sweet vermouth and cardamom chai. Hendrix, who was prone to wrecking his hotel rooms after a hard night out, would probably have gone for the Zombie Punch: three rums, with a jolt of absinthe to steady your hand.
In addition to the mixed drinks, Elettaria has an interesting and unusual wine list, which was created by co-owner Noel Cruz. Many bottles are under or around $40, and they're not the predictable ones that appear on so many lists. A fine bottle of Potel Aviron julienas costs $43, and a Mezzolombardo turoldo, a light red from northern Italy, is $36. The wines by the glass are reasonably priced, too, such as a Jean Rosen pinot blanc at $7, and Marc Aurel, a saint laurent from Austria, for $10.
Elettaria (Latin for "green cardamom") is owned by Akhtar Nawab and Mr. Cruz, both of whom worked at Tom Colicchio's Craft and Craftbar. The long, dark dining room was designed by Jason Volenec, who did Allen & Delancey. It has a similar funky charm: bare brick walls, wide-planked floors, gilt-framed mirrors, plain wood tables, candles, velvet curtains, flea-market art and large plush booths. The beamed ceiling still smells faintly of linseed oil.
Hendrix (who would have turned 66 this year) would surely have liked this place—especially the beautiful waitresses, who are dressed like bar wenches in blowsy scoop-necked silver-gray dresses cinched at the waist by small black aprons. But I wonder what he'd have made of the food.
The steak ("bavette" on the menu) has powdered fenugreek in the sauce! Duck comes with a cardamom-scented keema made from the minced leg meat; roast chicken gets sweet and sour tomato ravioli and a smoked sunchoke purée instead of mashed potatoes and gravy.
Mr. Nawab, who was previously chef at the E.U. in the East Village, is from Louisville, Ky., where he grew up on his mother's native Indian cooking. So Indian spices play a significant role in his American food. His menu is short (seven main courses), but the food arrives on chic-looking plates—glass rectangles and shallow white bowls. When you sit down, your server brings naan bread cut in triangles.
FROM ONE MEAL to the next, you may walk away thinking Elettaria is a terrific restaurant or that it's little more than a trendy bar with mediocre food. Part of the problem is the cooking. The sea scallops, nicely matched with stewed oxtail and celery root purée, were seared to the consistency of leather one night. The wild striped bass, with a lovely saffron-flavored rice, was dry. The cured kanpachi tuna, in an oily dressing, was over-garnished with hearts of palm, pickled trompettes, papaya and chili, all of which ended up canceling one another out. The fluke was drowned by the spices in the sauce, and the roast wild boar with cumin and orange was vapid and under-spiced. (Neither the fluke nor the boar is on the menu anymore.)
Yet I'd go back just for the sweetbreads, soft and silken under their crisp exterior, and sprinkled with pink peppercorns and pineapple chunks. The deep-fried quail was moist and juicy inside a light beer batter, and came with a deep-fried quail egg and pomegranate molasses.
The pig's foot was also terrific. It's not a whole trotter, but a crepinette with a stuffing of shredded pork, topped with a square of crackling and sprinkled with cashews. The lamb sausage is a play on traditional kefta, one fat link threaded on a skewer and spiced with cumin, served with a yogurt mint raita. This food is imaginative and original, and the talent is clearly there. Perhaps the kitchen just needs more time to settle down.