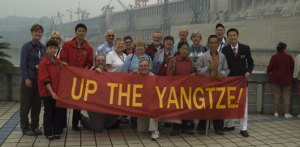 UP THE YANGTZE
Running time 93 minutes
Written and directed by Yung Chang
Starring Yu Shui and Chen Bo Yu
Yung Chang's Up the Yangtze crosses the very thin line between fiction and nonfiction films with the use of real-life people in the massively ongoing spectacle of the largest hydroelectric project in history, the Three Gorges Dam, which is causing the displacement of three million inhabitants from the banks of the fabled Yangtze River. Mr. Yung is a Chinese-Canadian filmmaker who knows the area firsthand as his grandfather's birthplace.
As Mr. Yung describes the genesis of this film in the production notes: "The idea was born in 2002, when I went on one of the so-called Farewell Cruises along the Yangtze with my parents and grandfather. The aim is to offer tourists the chance to visit the area before it is flooded by the Three Gorges Dam. It's very surreal. Traveling from Canada to China was an emotional experience. We got off the 13-hour flight to Beijing, and then took a flight to Chongqing—the largest municipality in the world. They call it the new Hong Kong. It's where the cruise begins."
Mr. Yung chose two main characters for his real-life drama of the swirling changes in China. Yu Shui was christened "Cindy" by her employers on the cruise line. She was 16 at the time shooting began on the film, and she is shown as the eldest of three children in the Yu family, self-supporting farmers living along the Yangtze River, near Fengdu, the so-called Ghost City. Since the Yus are about to be displaced a second time by the rising waters of the Three Gorges Dam, Yu Shui is sent to wash dishes on the Cruise Line to help support the family.
By contrast, "Jerry" Chen Bo Yu, the lounge singer, is the spoiled son of a middle-class Chinese urban family; he can't wait for the New China, with its promised new class privileges and opportunities to arise from gigantic enterprises like Three Gorges Dam. Mr. Yung respects both points of view as he ponders a puzzle that is baffling all of us. Just where is China taking us besides up the Yangtze River? Mr. Yung's film does not even pretend to know, and that is its great strength as it plunges more deeply into the truly unknown.