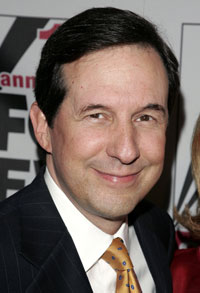 "I think it'll be the kind of interview we do on Fox News Sunday: tough, probing but fair," said Chris Wallace.
Mr. Wallace, the host of Fox News Sunday, was speaking to Media Mob on Thursday afternoon, about having just landed a major interview that had long eluded him: a one-on-one sit-down with Senator Barack Obama.
This Saturday, April 26, Mr. Wallace will be in Indiana, where he will interview Mr. Obama at length. The interview will air the following morning on Fox News Sunday.
"We certainly aren't interested in a food fight," he added.
Mr. Wallace has long pursued an interview with the Democratic front-runner. According to Mr. Wallace, long ago, in March 2006, at the annual Gridiron Dinner in Washington, D.C., Mr. Obama agreed to appear on Mr. Wallace's program.
But some two years later, the interview still hadn't happened. Mr. Wallace grew frustrated. "I had the sense that we were being played," said Mr. Wallace. As a result, back in March, Mr. Wallace and company launched "Obama Watch," essentially a graphic of a running clock keeping tabs of how much time had elapsed since Mr. Obama had failed to follow through and come on the show.
In the meantime, Mr. Wallace continued to study up on the U.S. senator from Illinois. Recently, he told The Observer that while on vacation in Jamaica, he spent his time by the side of the pool, pouring through the pages of Mr. Obama's autobiography Dreams From My Father.
Toward the end of March, Mr. Wallace made headlines by coming to Mr. Obama's defense and taking his colleagues to task on the Fox News weekday morning show Fox & Friends for treating Mr. Obama unfairly.
Roughly a month later, Mr. Obama agreed to finally come on the show.
"This Sunday will be 772 days and we'll stop the watch," said Mr. Wallace.
So what precipitated Mr. Obama's apparent change of heart?
"I think the Obama Watch helped—at least in making it tangible to our viewers that he was ducking us," said Mr. Wallace. "Ultimately, the fact that he was having such trouble reaching out and winning over working-class Democrats, moderates and conservatives might have made him realize that Fox News might be a good place to get his message out."