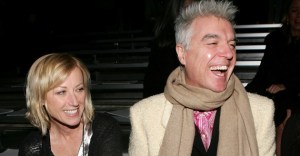 On Sunday, Guest of Cindy Sherman will premiere at Tribeca Film Festival. And if you're anything like us and easily excited by the prospect of seeing a film by or about the queen of role-play herself—we already RSVP'd to the after-party hoping to clink glasses with the artist—you would be massively fooled!
The film was directed by Ms. Sherman's ex, Paul H-O, who hosted a cable television show called GalleryBeat in the '90s and after a while, seemingly, didn't much like being her plus one. But! Ms. Sherman, who not only has her name as the title but also appears in the film thanks to footage shot during the couple's relationship, tells Paper magazine that she won't be around to see it at Tribeca:
"As my name is in the title and my work and self are so abundantly represented, I would like to counter any assumption that I am or wish to be personally associated with it. I am not a participant in any events related to the film's screenings in this festival or future presentations. I apologize to all those who participated, thinking they were doing me a favor in giving interviews and otherwise assisting in the fabrication of this film. Against my better judgment, it was clearly unwise to cooperate with the project at its inception." O.K., Cindy, see you next time!