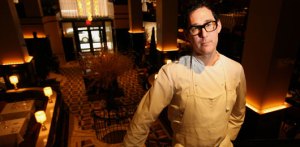 At 4:30 on a recent Friday afternoon, Del Posto, the 10th Avenue behemoth of a restaurant owned by Mario Batali and Joe Bastianich, had a bustling and vaguely portentous feel. Servers in black and white scurried up and down the two grand staircases in the main dining room, which, multi-tiered and blandly opulent, has been compared to a hotel lobby. An imperious maître d' in a suit and tie manned the phones from a desk in front of a massive dried flower arrangement, while a few bald, corporate-type older men, possibly holdovers from lunch, sipped wine at scattered tables. Mark Ladner, the restaurant's Clark Kentish and taciturn executive chef, sat at the far end of the long granite bar in full chef regalia: white apron, designer jeans rolled at the ankle, white Crocs.
Mr. Ladner, 38, was finishing up a business meeting with a man in a suit. He is not in the habit of lurking around the dining room of his 26,000-square-foot, 400-seat, double-Michelin-starred restaurant, particularly when actual customers are present.
"I guess in some ways I'm sort of shy," he said in a low monotone entirely unsuited to the kind of kitchen histrionics that have been attributed to his boss, Mr. Batali. "I don't really enjoy talking to strangers about the experience they're having in the restaurant as the chef talking to the client. … I'm trying to become better at it and realize that I have to make more of an effort. But if it was up to me, I would never leave the kitchen."
Mr. Ladner is an anomaly in today's New York culinary scene, which has seen its elite chefs achieve unprecedented levels of national pop culture fame. Mr. Batali is a prime example: a Food Network veteran, Iron Chef America star, and regular talk-show guest who has seven New York restaurants, five cookbooks, a cookware line and countless famous friends. His star is such that it tends to illuminate even his protégés: Anne Burrell, for example, who left Mr. Batali's firmament to open Centro Vinoteca and recently landed her own Food Network show, or Esca's Dave Pasternack, a fish expert with a signature cookbook. Mr. Ladner, though, who helms the biggest, baddest Batali enterprise of all, is largely unknown to food industry outsiders—even food blogs rarely mention him—and he professes to like it that way. He's Batali's anti-Batali.
"In order to be famous, you have to really want to be," he said. "You don't accidentally fall into it. You have to cultivate this persona. Anne [Burrell] wanted to be famous. When we started Iron Chef, she said, 'I'm going to be famous in five years.'" Mr. Ladner, who is consulting on a forthcoming Italian restaurant in the JetBlue terminal at Kennedy Airport, also appeared on Iron Chef, towering over his sauté pans and saying very little, but only "because I'm a team player," he said.
"The reason I got involved with someone like Mario is so I wouldn't have to do this shit," he added, motioning toward a photographer who had arrived to take his picture.
Slice of Life
Mr. Ladner, 6-foot-4 with black-framed glasses and short-cropped black hair, did not look like the captain of this massive marble-floored, white-tablecloth cruise ship, but rather like a lost cook from the clamorous Batali pizzeria Otto, in which he is a partner (the concept will soon be replicated in other cities, he said, and he'll be involved with those as well).
When Del Posto first opened in December 2005 after a protracted period of delays, some Batali devotees were confused to find the restaurant so … stuffy. The Times awarded it three stars, the same as the less expensive Babbo, though Mr. Batali had vocally sought four. "This is probably the least successful of all [the Batali restaurants], but we'll win in the end," Mr. Ladner said. "It's certainly not that I want or need it for my ego, it's just that the potential is so evident to me." He has time; the restaurant's lease is 25 years. "I hope to retire here," he said matter-of-factly.
His mentor, for his part, would seem to have no problem with that. "He's just a remarkable character," Mr. Batali said the other day. "A persnickety, slightly tightly wound guy. Watch him on Iron Chef when things are going behind, and he gets a real twist in his panties."