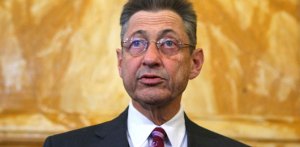 Once again, Michael Bloomberg has defied public opinion polls and noisy skeptics, lined up bipartisan support from the Democratic governor and the Republican State Senate and won over city lawmakers in support of an idea that would have a profound impact in New York City.
And once again, his big plan—this time, to impose a toll on cars driving into midtown Manhattan—faces a immovable obstacle in Sheldon Silver, who often seems to be the most powerful politician in New York. (It was Mr. Silver, the Ent-like Assembly speaker, who ultimately killed the Bloomberg administration's scheme to create a stadium on the West Side of Manhattan and bring the 2012 Olympics to New York.)
When the City Council approved congestion pricing, 30 to 20, on the evening of March 31, the mayor touted it as a major victory. And it was, at least to the extent that opponents of the measure believed, and said publicly, that it would never have the votes to pass.
But the powers of New York City government to determine what happens in New York City are strictly circumscribed by state law. What the Council did, effectively, was all it could do: pass the matter on for consideration to the sages of Albany.
Of the three people who actually control the state's unwieldy, anachronistic state government, two—Governor David Paterson and the Senate majority leader, Joe Bruno—support the plan. Mr. Silver, as is his wont, has not taken a clear position either way, instead expressing vaguely defined concerns about the details that are available while demanding more information about the aspects that have yet to be worked out.
When pressed by a New York Times reporter shortly after the Council vote about what assurances Mr. Bloomberg had from Mr. Silver that the issue would be voted on, the mayor said: "We can't speak for anybody else. What we can tell you is what this City Council did. And you should, if you have questions in Albany, ask Albany."
As of April 1, Mr. Silver's position remained precisely the same as it was the day before, and the day before that. Spokesman Dan Weiler said that Mr. Silver was still waiting for a "clear idea" from the city on public transportation improvements that might encourage people not to drive, and asserted that the time had not yet come—despite what the mayor has said is a looming April 7 deadline to approve the anti-congestion measures and still receive some $350 million in federal money to implement them—to take up the issue. "The speaker has said that right now, we are focused on completing the state budget," he said. "When we complete the state budget, then the conference will discuss the congestion pricing issue."
As usual, the majority of New Yorkers not directly privy to Mr. Silver's thinking can only guess at the reasons for his intransigence. Perhaps he's holding out for a concession from the city, or from his Albany opponents, on some other matter. Or it may simply be that, whatever Mr. Silver's personal inclinations, it's not worth it to him to override the vocal opposition to congestion pricing of some of his suburban and outer-borough members, whose unwavering support has helped keep him in power long past the typical expiration date of an Assembly speaker.
As one Democratic lawmaker put it, "No one can figure out why he would want to do it. There is a very serious groundswell of opposition from the conference. Whatever it is that Shelly might want, it will have to be great enough to inspire him to expend a great deal of political capital to turn the conference around."
Public transportation and good-government advocate Gene Russianoff, a supporter of the plan, said that getting congestion pricing through Albany—and the passive, deadly opposition of Sheldon Silver—will take an extraordinary feat of deal-making. "This is sort of on a mega-level of tectonic plates smashing up against each other," he said. "I can't really tell what the parties want."
That's assuming there's any concession that the speaker is looking for. Otherwise, congestion pricing is already dead.