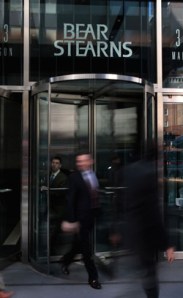 The fiery death of New York real estate will look something like this: Bear Stearns executives will renege on the Upper East Side apartment contracts they signed before their firm's collapse; finance guys at other firms, saddled with another round of nonsteroidal bonuses, will keep downsizing; foreign investors will get panicky and back out of Manhattan; Bloomberg will blubber; brokers will bawl.
But when Bear Stearns senior managing director Bill Bamber and his wife closed in February on their new apartment at Third Avenue around 92nd Street, it was good timing. Five weeks later, his firm and its stock collapsed. According to city records filed last week, the executive and his wife paid $1,995,000 million for a new two-unit, four-bedroom condo with views of the George Washington Bridge, the Triborough, and the Jacqueline Kennedy Onassis Reservoir.
"Yes, it was a great trade," Mr. Bamber said in an e-mail. "We sold all the Bear Stearns stock we could to help fund the purchase & renovations to the Condo."
His old chief executive Jimmy Cayne did even better, buying a $28.24 million spread at the Plaza before his firm's stock fell from a high of around $170 to $2.84.
But the Bambers' lawyer on the deal, Paul Herrick, has other clients that aren't doing as well. "I've got a couple of other Bear Stearns guys, they're in tough spots," he said. Those two might not close on their apartment contracts, signed before the collapse, which would mean they'd lose their deposits. (On the bright side, their lawyer said that finding a legal way to back out with their deposits is not impossible, "when you really start to tear apart a contract.")
But even if a Bear executive is solid enough to go through with his apartment deal, there's still trouble. "It's like, O.K., I have enough assets to finish this transaction," the lawyer said. "Then the next question is, 'Will I have enough income after I've closed that I can realistically afford this place?'"
Things were different last July, when Mr. Bamber smiled and clapped with fellow Bear executives as they rang the New York Stock Exchange's closing bell, celebrating something called the BearLinx Alerian MLP Select Index ETN. Even in October, financial difficulties were something to laugh at: "Times being tough at Bear," he reportedly said during a badly illustrated presentation, "I had to rip off the top graphic from a bottle of Canada Dry ginger ale."
These days, his real estate lawyer is reminded of an earlier New York catastrophe: "Nine-eleven was an example of people trying to get out of contracts," Mr. Herrick said. "The only business we had for a week was people trying to get out of contracts."