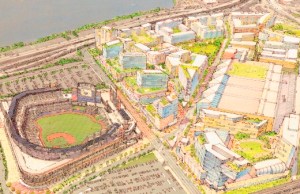 The Bloomberg administration is facing stiff opposition to its Willets Point redevelopment plan.
The city commenced a seven-month rezoning process today for the 61-acre site by Shea Stadium, prompting 29 members of the City Council to declare their disappointment with the plan. (More details on the Council's concerns here).
The letter seems to spell trouble for the Bloomberg administration on this project, which imagines a complete redevelopment of the manufacturing and car repair-intensive district.
"As the plan currently stands, it has no chance of surviving the public review process. We urge you to come to the table and work with us," the letter reads.
Of the issues to resolve: the proportion of below-market rate housing, wage and labor concerns raised by union groups, how to deal with the existing landowners, and how to relocate the tenant businesses, among other concerns.
Usually there are many unresolved issues at the start of the public approval process, though there seems to be a rather high number this time around. The city has said it hopes to resolve the issues as it goes along in the process, and indeed, deals tend to be made at the last stop: the City Council.
View the letter, addressed to Deputy Mayor Robert Lieber, here [MSWord doc].