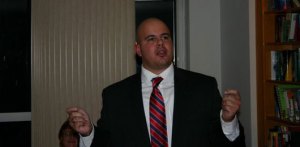 Democratic state senate candidate Jimmy Dahroug has been endorsed by Democracy for America, a progressive group rooted in Howard Dean's 2004 presidential campaign.
Chairman of the D.F.A., Jim Dean, Howard Dean's brother, said, "Jimmy Dahroug has a long record of grassroots activism and he gives Democrats a real chance to gain control of the State Senate. Democracy for America is proud to endorse his campaign." He added, "Jimmy Dahroug knows that the party that empowers people will be the party in power."
Dahroug is making his third run for the state senate seat on Long Island currently held by Republican Caesar Trunzo.
Earlier this year, Dahroug had grumbled that the Democratic Party establishment wasn't helping his candidacy enough. That was when a lifelong Republican was toying with the idea of running in the Democratic primary. Now, a Democratic legislator in Suffolk County, Ricardo Montano, is considering a run.
According to the latest campaign finance reports from January, Dahroug has $65,446.94 on hand in his campaign account, Trunzo has $205,058.81, and Montano has loaned himself $100,000, but has not declared his candidacy yet.
UPDATE: Montano just told me, "At this point I'm leaning against a run but I'm not out of it. I have to see how it plays out." When asked if he would run in a head-to-head primary race with Dahroug, Montano said, "probably not." But he said he may enter the primary if there are three candidates, and, according to the second item in this Spin Cycle post, there may be, thanks to Brian Foley.