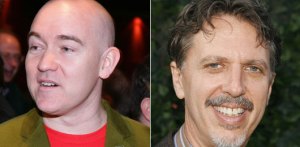 Last week, the novelist and former literary critic Dale Peck closed a gasp-inducing $3 million book deal. Admittedly, $3 million in this case sounds like more than it is. First off, it's for a trilogy. And second, Mr. Peck has to split it with his co-writer, Tim Kring, creator of the hit television show Heroes. In the words of the agent who sold it, the idea is Robert Ludlum meets Don DeLillo, the story of a man who discovers that he has superpowers because of LSD experiments conducted on him in secret by the C.I.A. The trilogy, which will be published by the Crown imprint of Random House, is called The Flag of Orpheus. Mr. Peck will write the actual prose and Mr. Kring will dream up the characters, the story line and, most important, the marketing campaign.
And that's what Crown is paying for. Mr. Kring has in mind an elaborate, interactive blitz using the Internet, TV, video games and possibly even movies. He tested this formula with Heroes to great success. To date, the show has spun off into a novel, a weekly comic book and an alternate reality game called Heroes 360 in which participants immerse themselves in the show's fictional universe and solve mysteries together by sharing clues and secret URLs.
Publishers were swept off their feet when Mr. Kring told them he wanted to try doing all that with a book. After years of boneheaded attempts by publishing people to harness new technology—Video trailers on YouTube! Author blogs! "A mixed reality" book party on Second Life!—here, finally, was someone coming up with an idea that didn't sound totally lame.
"Truth be told, when Tim got into the room and talked about what he had done with Heroes, what he had planned to do and how he had conceived of this book as a transmedia project, it was lightning in a bottle," said Richard Abate, head of the New York-based literary division of the Hollywood talent agency Endeavor, who conducted the auction between Crown and four other publishers. "People were like, 'Wow. This is where we want to be with all of our books 10 years from now."
While the amount of money Crown paid for the book was bewildering—messiahs are expensive—more bewildering still was the fact that Mr. Peck was involved. Because, wait, Dale Peck? The notorious literary critic? The really aggressive one who despised all his contemporaries and denounced them as charlatans in the pages of various esteemed publications? How strange that this writer, who had all but disappeared from the public eye when he retired from literary criticism five years ago amidst overpowering hostility from the literary world, was suddenly working on a project that publishers thought could save their business from the 21st century.
Mr. Kring, whom Mr. Abate had approached about doing an experimental book project a few months before the writers' strike, didn't know any of this when Mr. Peck's name was floated as a possible collaborator.
"I went online immediately and got very educated on who he was, and was very intrigued by some of his, you know, some of the controversy that surrounded him," Mr. Kring said in an interview. "It was actually sort of hard for me to see where it came from because he's got a real very sweet quality to him."
MR. PECK WAS not always a pariah. His first novel, a formally experimental book of vignettes called Martin and John, about a gay man whose lover has died of AIDS, was published to great fanfare by Farrar, Straus, and Giroux in 1993. It transcended the gay-lit niche genre to which it might have been relegated, instead entering into mainstream literary culture and even getting assigned in college classes.
"I was the right person at the right time. I was 25 years old and had a nice clean innocent face and wrote a very earnest book," Mr. Peck said. "That was the heyday of contemporary gay literature."
Mr. Peck's second and third novels, also published by FSG, did not do nearly as well as Martin and John, and by the time he was writing his fourth in 1998—The Garden of Lost and Found—he decided to leave FSG and sold the book at auction instead to Rob Weisbach, who at the time was running his own, aggressively commercial imprint at William Morrow.
The move raised eyebrows among people in the industry. "Rob Weisbach is a great promoter," one editor who pursued Mr. Peck's fourth novel at auction told The Observer at the time. "But … John [Glusman, at FSG] is a brilliant editor. If I'd been Dale, I would have stayed with him." FSG was a very prestigious house, after all. For a serious writer like Mr. Peck to give up his membership there in favor of an imprint known for publishing Ellen DeGeneres seemed irrational.
By this point, Mr. Peck had left his original literary agent and signed on with the Andrew Wylie Agency. He was also gaining notoriety as a critic.