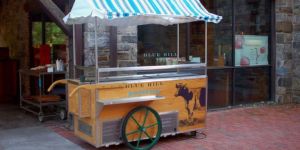 Dan Barber, the chef and restaurateur who operates the celebrated Greenwich Village restaurant Blue Hill, has found a publisher for that book of food stories he was shopping last month. According to his literary agent David Black– whom Mr. Barber met when he came to dinner at Blue Hill– the book was acquired by the Penguin Press about a week after the proposal went out.
The Penguin Press, one of the most prestigious publishers of non-fiction in town, is a logical home for Mr. Barber, a vocal advocate of sustainable agriculture and locally-grown food whose intellectual predelictions are not dissimilar from those of Michael Pollan, who is also published there.
As we reported last month, the book Mr. Barber wants to write will be comprised of stories about "all the different farmers and characters" he's met over the course of his career as a chef, all of which will, taken together, form one coherent narrative. When we interviewed him, Mr. Barber also told us that he wants to write a cookbook, but at this point that project is not formally on the docket.
Mr. Black would not disclose how much money Mr. Barber would be getting for the book. He said that although a lot of publishers saw the proposal and wanted to publish the book, he did not hold a formal auction because Mr. Barber felt such an "editorial connection" with Penguin Press publisher Ann Godoff.
Mr. Black said Mr. Barber would take "a few years" to write the book, meaning readers shouldn't expect it on shelves before 2010.