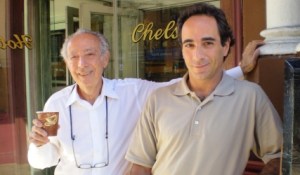 Legendary hotelier Stanley Bard will deliver a videotaped "message of hope" tonight at the Museum of the City of New York.
Hear what the charismatic former manager of the embattled Chelsea Hotel has been up to since his controversial ouster last summer, what he thinks about the new management and ongoing eviction proceedings, as well as his vision for the future of the iconic 125-year-old lodge, of which he remains the majority owner.
Mr. Bard's remarks will follow a panel discussion with preservationist Edward Kirkland and writers Ed Hamilton, author of the 2007 book Legends of the Chelsea Hotel: Living with the Artists and Outlaws of New York's Rebel Mecca, and Sherill Tippins, author of the forthcoming Dream Palace: The Extraordinary Life of the Chelsea Hotel.
The event starts at 6:30.