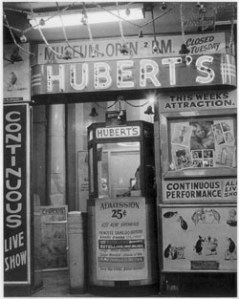 HUBERT'S FREAKS: THE RARE-BOOK DEALER, THE TIMES SQUARE TALKER, AND THE LOST PHOTOS OF DIANE ARBUS
By Gregory Gibson
Harcourt, 274 pages, $24
Gregory Gibson's strange and excellent new book, Hubert's Freaks, takes its title from the Times Square freak show where photographer Diane Arbus dredged up subjects in the 1950s. The Hubert's Museum Mr. Gibson describes is at once charming and horrible, featuring a close-knit community of "born" and "made" freaks like a fire-eater, a snake charmer, a man with no arms and a resident black "savage," Congo the Jungle Creep. Mr. Gibson interweaves his arresting history of Hubert's—and, by extension, New York at midcentury—with the stories of photographer Diane Arbus, born wealthy on the Upper East Side, and Bob Langmuir, a neurotic rare-book collector who in 2003 bought an old archive of treasures and memorabilia from Hubert's, unaware that it contained lost photos by Arbus.
These tales are ably and meticulously told—and all true to boot. Mr. Gibson has a flare for the dramatic that elevates the book from straight history to propulsive page-turner. For example:
"On July 26, 1971, while legendary photographer Diane Arbus was curled up in a bathtub at the Westbeth apartments in New York City, slitting her wrists, Bob Langmuir was traveling out of his body, which was heaped in a roadside ditch in rural Vermont, struggling to maintain its own hold on life."
That's the book's first sentence, and it's meant to establish a cosmic dimension to Mr. Langmuir's eventual discovery of Arbus' photos. Mr. Langmuir himself assumed such a connection, and it helped him to escape his private worries—self-doubt, professional insecurity, a second divorce, a brief institutionalization—when he immersed himself in obsessive research on Arbus and Hubert's.
MR. GIBSON'S BOOK is not really about the freaks in Times Square or even about Diane Arbus (though he does spend three pages defending her from Susan Sontag's famous blast in the pages of The New York Review of Books). Hubert's Freaks is about the mind and methods of people who collect things, as embodied by the depressive Mr. Langmuir and his frustrating quest to see his trove of lost Arbus photos legitimized by the photographer's estate and the wider art world. Mr. Gibson traces art's late-breaking obsession with photography over the past few decades, reminding us of the often arbitrary nature of fame and valuation.
Just as Bob Langmuir poured his heart and soul into understanding Diane Arbus, Gregory Gibson has poured his into understanding Bob Langmuir, an earnest man with nagging demons. The author is a thorough, often moving storyteller whose true interest seems to be not in the arcana he succeeds in making us care about, but in the dark moments and uncanny resilience of the human psyche as it transcends time and place. A person walking into Hubert's in its later years, for example, would be "bemused by the palpable aura of failure barely averted, of a weariness just this side of desperation, of the tatty, threadbare courage of an institution that had long outlived its time."
Meredith Bryan is a reporter at The Observer. She can be reached at mbryan@observer.com.