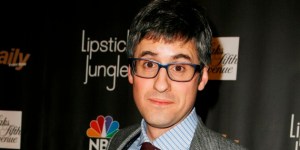 On the night of Wed. April 16, comedian Mo Rocca walked across the stage in the spacious auditorium at the Hilton Washington on Connecticut Avenue in Washington D.C. and thanked several hundred reporters, politicians, and celebrities for showing up at the annual Radio and Television Correspondents Association Dinner.
"I know that the White House Correspondents' dinner in about 10 days gets most of the glory," said the ubiquitous political satirist and sometime MSNBC contributor. "I think of this one as sort of the Nicky to that one's Paris Hilton. This is sort of the Jamie Lynn to that dinner's Britney. Well that dinner is sort of like CNN. This one is MSNBC."
The crowd snickered.
"I kid because I love," he said. "And also because I want the right to lay into everyone else tonight."
Sure enough, over the next half hour, as the black-tie audience chased down their surf-and-turf dinners with cups of coffee and more glasses of wine, Mr. Rocca was ecumenical in his ridicule of their employers. Perfunctory jokes about CNN (Lou Dobbs hates foreigners) and Fox News (Bill O'Reilly hates everybody) inevitably led to Katie Couric.
"You know that things are really bad when CBS News was included as one of the charities in Idol Gives Back," said Mr. Rocca. "Personally I believe CBS News will really take off when they pair Katie with Connie Chung."
"I can't take credit for that joke," he added. "I should give credit to my joke writer. Bob Schieffer, where are you? Stand up and take a bow Bob Schieffer."
The host of Face the Nation (and go-to scapegoat in the aftermath of any critical story about Katie Couric) was in the audience. He did not take a bow.
Back on stage, Mr. Rocca ran through the usual slate of political jokes: Hillary Clinton ducking sniper fire, Barack Obama bowling badly, Dick Cheney fathering Luke Skywalker, etc.
"President Bush couldn't be here tonight because he's having dinner with Catholic bishops," said Mr. Rocca. "And also because he hates you."
Sure enough, President Bush was on Pope duty. Instead of attending, he dropped by via video. "You have a tough job to do," said Mr. Bush on a series of jumbo screens. "I know the long hours and time away from your families is not easy."
Nor on Wednesday night was it particularly hard. For many guests, the long hours of sacrifice had kicked off earlier with glasses of wine and trays of passed martinis at the Fox News pre-game party.
There, in a tent in the Hilton's courtyard alongside the occasional string quartet, Mike Huckabee mingled in spitting distance of Mitt Romney. (This assessment was not put to the test.) Oliver North chatted with a statuesque blonde lady. Bill O'Reilly greeted a handful of well-wishers. Lloyd Grove hovered. And Fox News Washington Bureau Chief Brian Wilson talked to the Media Mob about growing up in Odessa, Tex. and attending the high school that inspired the multiplatform media behemoth that is "Friday Night Lights." How'd he like the book? Long conversation short: He thought it got the football right.
A half hour later, Russell Simmons, decked out in hip-hop black tie (which at this time of year includes a starched Yankees cap and white sneakers), and the rest of the guests settled into their seats in the main auditorium.
Center stage, Mr. Romney took the microphone, made a joke about the liberal bias of CBS News, and launched into the top 10 reasons why he decided to get out of the race. No. 5: "I'd rather get fat, grow a beard, and try for the Nobel Prize."
Shortly thereafter, Mr. Romney gave way to the featured political guest of the night, Vice President Dick Cheney. Mr. Cheney took the stage and put on a fishing hat and sunglasses. "You'd be surprised by how many guys want to go fishing with me these days," he deadpanned.
Soon, the ribbing returned to the comedic political evergreen that is Al Gore. "Speaking of Vice President Al Gore, I'm sorry to relate that he's a little bit sore at me," said Mr. Cheney. "He's convinced that on global warming, I just don't get it. But lately, with every passing day, the evidence has been catching my attention. I have no doubt, none at all, that we are in the midst of a global warming. Or, as I call it, spring. And I don't want to be an alarmist, but it's going to get a lot warmer."
Mr. Cheney said that earlier in the day he had met with the Pope at the White House. "I spent the morning with one infallible authority," said Mr. Cheney, "and now I get to spend the evening with a thousand of them."
Hear, hear!
Afterwards the infallible authorities of American television and radio wandered the carpeted halls of the Hilton dissecting the night's entertainment (verdict: Mr. Cheney was sooooo much funnier than Mr. Rocca) and searching tirelessly for more booze.
Following their reportorial instincts, many correspondents eventually wound up at CNN's after party, which was held across the street from the Hilton at a three-story lounge called the Russia House. There, CNN's political guru Sam Feist held court by an open window overlooking Connecticut Avenue while Wolf Blitzer studiously eschewed the vodka station (the Media Mob, not so much).
As the party pushed past midnight, the crowd thinned out, and the CNN ice sculpture began to melt. Was there one more punch line there? Al Gore and Wolf Blitzer walk into a bar …It was getting late. There was work the next day, and ideally the hangover has to be gotten rid of before the White House correspondents' dinner. Various bloggers and journalists lined up by the ice sculpture, took one last snap shot, and called it a night. The punch line could wait for the morning. Couldn't be any worse than Mo Rocca.