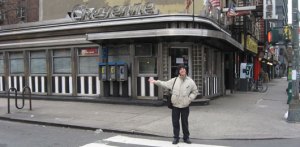 Michael Perlman should start charging a commission.
On Monday, the 25-year-old from Queens announced that he had just brokered a deal to move midtown's Cheyenne Diner to the Brooklyn waterfront.
Hey, it was either Red Hook—or the wrecking ball.
Just two weeks ago, the 68-year-old all-night diner on Ninth Avenue near Penn Station had served what appeared to be its final triple-decker burger. Landlord George Papas, who also owns the nearby Skylight Diner, planned to tear down the shiny, chrome-covered, prefab single-story railroad-car-style structure and erect a nine-story apartment building in its place.
Then Mr. Perlman stepped in, convincing Mr. Papas that he could find a buyer to relocate and restore the old neon-lit eatery, preferably some place else in New York City.
Mr. Papas initially agreed to sell the would-be scrap heap for around $7,900—a sum that Mr. Perlman said "reflects the urgency of removing it from the property so development plans can proceed."
The landlord ended up unloading it for just $5,000 to construction manager Mike O'Connell, son of Brooklyn developer and major Red Hook landowner Greg O'Connell.
"It will gain a new lease on life in Red Hook, Brooklyn, and contribute to the appeal of an up-and-coming neighborhood," Mr. Perlman proudly announced via e-mail on Monday, then delved into the wonky specifics of the tricky relocation ahead: "The immediate steps will be to confirm a rigger … and then apply for demolition permits, which is a mandatory precursor to disconnecting utility lines and lifting the diner from its foundation, amongst other requirements."
It's the second time that Mr. Perlman has brokered one of these diner-relocation deals in New York City, which is all the more remarkable because he isn't really a broker. At least not professionally.
A freelance writer, part-time administrative assistant and solo cabaret performer, Mr. Perlman fights to save historic places from destruction in his spare time. His efforts have generated a lot of publicity.
Most notably, last August, he helped find a new home for Soho's long-standing Moondance Diner, the gleaming greasy spoon with the iconic crescent-shaped logo where Kirsten Dunst's character, Mary Jane, waited tables in the 2002 summer blockbuster Spider-Man—and which, just like the Cheyenne, was about to be bulldozed in the name of development.
How appropriate, then, that its savior would swing in from the fictional web-slinging superhero's own neighborhood of Forest Hills.
Mr. Perlman's Committee to Save the Moondance Diner, in collaboration with the nonprofit American Diner Museum in Providence, R.I., ultimately located a buyer who, for just $7,500, drove into town on a flatbed truck and hauled the factory-built eatery off to La Barge, Wyo., where it's expected to reopen this summer.
The sale and relocation, which was widely chronicled by news outlets across the country, was a pivotal moment for Mr. Perlman. "That was the effort that made me an official New York City preservationist," he said.
"He's just a force of nature, a one-man dynamo, and I think we all owe him a great debt of gratitude for the incredible work he's done," said Andrew Berman, executive director of the Greenwich Village Society for Historic Preservation, who puts Mr. Perlman at the forefront of "a new wave" of activists concerned with safeguarding various New York institutions.
"It's a new kind of historic preservation compared to what you've typically seen in New York," Mr. Berman said. "It's not about some 19th-century Renaissance palazzo that's being demolished. It's about this coffee shop or this bar or something like that, which is every bit as real in terms of the way people connect to it in terms of their sense of the history and the character of the city, but it's not necessarily your standard architectural or historic gems. It's more these little slice-of-life places."
"A diner is the ultimate public institution," Mr. Perlman explained over lunch last week at his local hangout, the Tower Diner on Queens Boulevard, where everyone, from the hostess to the waiter to the owner, seemed to know him by name. "Lately, that particular slice of New York City history is becoming endangered most rapidly."