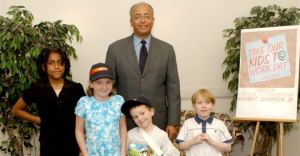 David Paterson doesn't think Sheldon Silver or Joe Bruno would "flip out" if he sought changes in the state budget they just passed.
ReformNY reports on the Assembly hearing on the Buildings Department.
Reuters says Michael Bloomberg just can't stop campaigning. 
Ken Langone can't get rid of the Richard Grasso case. 
Melinda Katz and Peter Vallone, Jr. are the only Council members from Queens who didn't sign the letter opposing the Willets Point plan.
Rick Dollinger is putting pressure on Joe Robach.
The Queens Courier has video of the press conference where Jim Gennaro and David Weprin wore ""MAKE FUEL NOT WAR" buttons.
Politico profiles Charlie Rangel's chief of staff, who was born in Cuba.
The state government is creating mounds of immigration legislation, but not much of it is being passed.
Andrew Cuomo bags a predatory lender.
Paterson is speaking to troops at their deployment ceremony Monday.
The state is going through with a huge employment recruiting program, which apparently does not conflict with budget cuts the governor demanded.
Harry Reid talks about superdelegate strategy and says more or less what Nancy Pelosi and Howard Dean have said.
In New Orleans,John McCain talks about the tragedy of Katrina.
"We'll see Barack Obama's Bruce Springsteen endorsement and raise them an Orrin Hatch," said a spokesman for McCain.