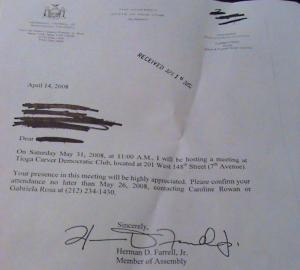 Democratic Assemblyman Herman Denny Farrell is set to announce his reelection on May 31 at the Tioga Carver Democratic Club, and he sent a letter to his friends and supporters asking them to attend the event.
This copy of the letter, sent to me by a recipient, was sent out on official Assembly letterhead, which is only supposed to be used for legislative work. The letter doesn't ask for money, but it does ask people to attend a political club meeting, which falls under the category of political work. It's not the biggest deal in the world, but certainly the sort of thing that could provide fodder for a future oppponent. (Farrell is unofficially planning to run for City Council in 2009.)
When I called Farrell just now, he said it was a mistake made by his staff, and that he's usually very careful to separate legislative work he conducts in his office from the political work that he does at the Tioga Democratic Club, which is right across the street.
UPDATE: Farrell just called to say the letters were only sent to 10 people, and that he's going to pay for it out of his own pocket.