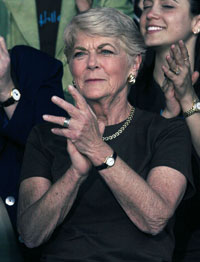 Geraldine Ferraro, who severed her formal ties with the Hillary Clinton campaign after saying Barack Obama wouldn't be where he is if he wasn't black, is still a sought-after political draw in some circles.
Ferraro will be a featured guest at Carolyn Maloney's May 12 fund-raiser at the Princeton Club.
Names on the host committee include John Catsimatidis, a likely Republican mayoral candidate, and Chung Seto, a former executive director of the state Democratic Party (who, famously, raised money for Hillary Clinton.)
The invite, passed on to me by a reader, is here:
Please Join Us in Support of
United States Congresswoman Carolyn B. Maloney
Chair, House Financial Services Subcommittee on Financial Institutions
Vice Chair, Joint Economic Committee
-HOST COMMITTEE-
Russell Abrams, Margo & John Catsimatidis, Jim Clynes, Hon. David Cohen, Lewis Cohen, Mary Ellen Courtney, Hon. Barbaralee Diamonstein-Spielvogel & Hon. Carl Spielvogel, Hon. David N. Dinkins, Hon. Robin Chandler Duke, Hon. Linda Foa & Hon. Conrad Foa, Hon. Mark Green, Hon. Elizabeth Holtzman, Robin & Bill Hubbard, Drs. Beverly & John Jacoby, Harley Lippman, Christina Maloney, Hon. Trudy L. Mason, Karen & Dennis Mehiel, Hon. Sally Minard, Barbara & Morris Pearl, Joseph B. Rosenblatt, Hon. Lawrence M. Rosenstock, Lady Lynn Forester de Rothschild, William C. Rudin, Hon. Patricia Schroeder, Irene & Bernard Schwartz, Chung Seto, Beryl Snyder, Brian Snyder, Hon. Alexander Tisch, Bill White (Committee in Formation)
Monday, May 12th, 2008
6:00pm – 8:00pm
The Princeton Club of New York
15 West 43rd Street, New York, NY With Special Guest, the Honorable Geraldine Ferraro
And
Special Guest Performer
Chubby Checker
For more information, please contact Joan Dean at [email] or (xxx) xxx-xxxx __________________________________
Congresswoman Carolyn B. Maloney Dinner, May 12th, 2008 $4,600 Chair – 10 Tickets/Table and Priority Seating
$2,300 Host – 10 Tickets/Table
$1,000 Patron – 4 Tickets
$500 Sponsor – 2 Tickets
$250 Guest – 1 Ticket __Yes, I will attend on May 12th. Enclosed please find my contribution of: $_______
__No, I cannot attend, but enclosed please find my contribution of: $ _______
Individual contributions are limited to $2,300 per federal election. The primary election and the general election are each considered separate federal elections with each having a separate contribution limit of $2,300. Thus, an individual can give a total of $4,600 for the 2008 election. Contributions from corporations, labor organization treasury funds and foreign nationals are prohibited.
________________________________________________________________________ NAME*: PHONE: ADDRESS*:
OCCUPATION*: EMPLOYER*:
FAX: E-MAIL:
Federal law requires us to use our best efforts to collect and report the name, mailing address, occupation and name of employer of individuals whose contributions exceed $200 in an election cycle. Please be sure to fill out the above sections marked with an *. PAY BY CHECK
Please make checks payable to "Maloney for Congress" and mail to:
Maloney for Congress
24 E. 93rd Street, Suite 1B
New York, NY 10128
ATTN: Joan Dean _____________ PAY BY CREDIT CARD
Name as it appears on card: Account Number: Expiration Date: Signature: Date: Phone: (xxx) xxx-xxxx / Fax: (xxx) xxx-xxxx
Contributions or gifts to Maloney for Congress are not deductible for federal income tax purposes.
Paid for by the Email client – Maloney, Carolyn