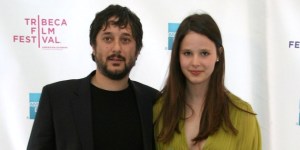 Last night we caught up with Harmony Korine at the TFF premiere of his new film Mister Lonely. And get this—he's a married man now! The writer of Kids and director of Gummo—and ahem, former Chloe Sevigny dater—arrived with wife Rachel Korine, a soft-spoken young woman of Lolita-esque beauty from his hometown of Nashville, Tenn. He even cast her as Little Red Riding Hood in the utopian film about a commune of celebrity impersonators and sky-diving nuns!
So, what's the relation between celebrity impersonators and sky-diving nuns?
The nuns were first. I just started imagining nuns jumping out of airplanes without parachutes and riding bicycles in the sky and doing tricks in the clouds. Then I started imagining that they would survive, like it was a test of faith or something, that if they believed strongly enough, then they could survive. Then I thought that was similar to the impersonators who kind of build their own society.
Why celebrity impersonators?
I thought they were interesting-looking and I just liked the idea of characters, people who try to create their own reality and their own language. Like the nuns that kind of just brought these obsessive characters.
Is there a celebrity impersonator you saw in real life that stands out?
I saw this Michael Jackson impersonator who had one leg and was German on the streets of Paris, and I just thought it was an interesting way to live.
How did you decide to give the role of Little Red Riding Hood to your wife?
I did a little research and I found out that there was an abnormal amount of Little Red Riding Hoods. I guess maybe doing children's parties or something. So it just made sense—my wife: Little Red Riding Hood. It was a fetish thing. I'm joking! It just made sense somehow.
What was the film set like?

It was like waking up and seeing James Dean tending the sheep or seeing Sammy Davis Jr. smoking a joint or the Three Stooges riding a pig. Every day I had that to look forward to. It was something beautiful.