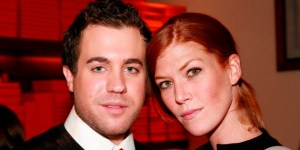 We heard you're working on a reality show called The 10021 that takes place in South Hampton?
Yes, it's basically a show about four New Yorkers living a kind of fashion lifestyle and about how their professional lives intersect with their social lives. It's a reality show, but it is being done more like a documentary-drama because it's filmed as a snapshot of our lives.
There are four main characters: Devorah [Rose] is the editor of Social Life Magazine, Teddy John is a successful model, Annabel [Vartanian] is my best friend and a very talented actress.
Devorah is also the executive producer of the show so she has the ability to make things be advantageous for her. There's been a lot of trepidation about that on my end. Not only does Devorah have a magazine called Social Life, but she firmly believes she is a socialite, and I don't know if it will win her a lot of fans. I don't think it's a word that really means anything. Being executive producer, I'm sure that she can make some decisions that will manipulate the show so that she comes off a certain way, but it's real life so there's not much anyone can manipulate.
Has there been any tension in the house so far?
We've shot a pilot, but I'm not allowed to talk about any of that. But, I'm sure that just like with anyone else living together, that there will be some tension.
People have described it as a blend of The Hills and Gossip Girl.
Well, it shows New York in the same way that The Hills shows L.A., but it's different in that we have full time careers—my favorite part of watching The Hills is when the girls are at Teen Vogue. As for Gossip Girl, I think that it shows a somewhat similar lifestyle as our show. We go to some of the same places and it's a little like Sex and the City where the city is portrayed as a glamorized fifth character. The show's producers really understand the aesthetic sensibility of the city and will play up iconic Hamptons and New York City images.
What do you think makes it different from other reality shows?
Well, for starters, the show isn't about winning something, so it's not a forced situation. Granted, I'm not close friends with everyone on the show, but it's not throwing us in an atmosphere that we don't know. It's basically taking what we're doing every day and documenting it. It wasn't like a casting call or a contrived situation.
Who can we expect to make appearances on the show?
I can't say who'll make appearances, but I can say that everyone who will be appearing are my friends. They'll be successful designers, people who have professional credibility that you will recognize.