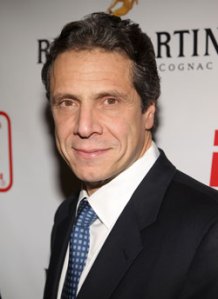 Unlike most public officials, New York's hard-charging attorney general, Andrew Cuomo, doesn't keep a written daily schedule.
That's according to his office, which, after two separate Freedom of Information requests from The Observer, finally said that Mr. Cuomo simply didn't have any pre-existing documentation of his day-to-day professional and political activities that he could make public.
It's the nature of his job, an aide explained.
"The vast majority of the attorney general's time each day is spent working on and being briefed on our cases and investigations," said Benjamin Lawsky, a special assistant and deputy counsel to Mr. Cuomo.
Mr. Cuomo's office eventually did provide a reconstituted outline of his public schedule between January 2007, when he took office, and April 2008. It is five pages long, listing press conferences, public outings and political events. They said it includes everything of a nonsensitive nature.
According to the outline, the New York events ranged, geographically, from Mr. Cuomo's press conferences about "upstate Guns & Gangs," held in Buffalo and Rochester on Jan. 8, 2007, to a "Meeting with Reverend Sharpton and Nicole Paultre" at the AG's office two days later.
There was national networking with other attorneys general, such as a June 20 trip to Atlanta for the "Regional Attorneys General Breakfast, Eastern Region." And there were appearances with corporate (and possibly political) tie-ins, such as "Bloomberg L.L.P. Continuing Legal Education Speech re: role of corporate general counsel" on Oct. 4, 2007, at the "Bloomberg Building."
The schedule also includes the four campaign events Mr. Cuomo held for his reelection committee, Andrew Cuomo 2010. The first was a breakfast at the University Club on May 21, 2007, followed by a June 13 event at Le Parker Meridien, a breakfast at the Penn Club on Oct. 2, 2007, and most recently, an event on Feb. 6 in Great Neck.
And like his upwardly (and downwardly) mobile predecessor Eliot Spitzer, Mr. Cuomo has also been highly active traveling the state to make political appearances on behalf of other Democrats. At various points throughout 2007, he appeared at campaign events in support of State Senate candidate Craig Johnson on Long Island, State Senator Eric Schneiderman in Manhattan, county executive candidate Joe Ruggiero in Dutchess, county executive candidate Jim Keane in Erie, county executive candidate Bill Magnarelli in Syracuse, and upstate Congressional candidate Dan Maffei in Manhattan.
There is one notable gap in last year's schedule. Mr. Cuomo did not have a single event logged for all of July 2007, a month that began with a July 1 news story in an Albany newspaper about State Senate majority leader Joe Bruno's use of a state helicopter for political travel, and his claim that Eliot Spitzer improperly had the state police spying on him. Both immediately called on Mr. Cuomo to investigate the matter. And Mr. Cuomo did, issuing a report chastising Mr. Spitzer's staff on July 23.
("The gaps in Mr. Cuomo's public schedules are a direct result of the time he's spent working on ongoing investigations, and speak to his hands-on nature of running the office," Mr. Lawsky said.)
Mr. Cuomo ended 2007 on Dec. 13 in "NYC," at a holiday party hosted by the Retail Wholesale and Department Store Union—their endorsement in 2006 had served as the Cuomo campaign's kickoff fund-raising event.
Fine, as far as it goes.
But what about Mr. Cuomo's explanation for not keeping a more complete record of his activities?
On one hand, there is clearly something to the fact that as an official whose job entails conducting sensitive investigations, there may be things that Mr. Cuomo can't and shouldn't reveal.
On the other, a number of public officials interviewed for this story, including two of Mr. Cuomo's predecessors in the attorney general's office, seemed to find the idea that Mr. Cuomo doesn't maintain written schedules at all to be somewhat improbable.
"I don't know why you can't put on your schedule, 'He met with Smith, head of the bureau,'" said Oliver Koppell, who filled the unfinished term of Attorney General Robert Abrams in 1994. Mr. Koppell, who served in the Assembly for 23 years, is finishing his second term as a councilman from the Bronx. He added, "I don't know any public official's schedule which doesn't lay out hour-by-hour what that person is doing."
Asked about keeping a personal schedule, Dennis Vacco, who served as attorney general from 1995 to 1998, said, "Did we maintain that? Sure we maintained that. My schedule was available, typically, to the senior staff. The senior staff knew what I was doing for the whole week."
Mr. Vacco did say that he accepted the explanation provided by Cuomo's office about its hesitancy to disclose the details of the attorney general's daily agenda. "It is legitimate—I do understand his logic," he said. "He does not want to give you information about meeting with [assistant] AGs, investigators or other law enforcement agencies, because even if he gave you the name of those individuals, then you might be able to cut and paste and figure out what cases he might conferring about. So I do understand that logic."
But Vacco added, "On the other hand, if he's meeting with the editor of the Jewish Press, or the Forward, or The New York Times, if he's got a reporter in his office or if Senator Clinton comes in to meet with him, that ought to be on his schedule."
This was essentially the explanation that Mr. Cuomo's office gave.
Mr. Lawsky, a former federal prosecutor, had said that Mr. Cuomo's job simply doesn't lend itself to the keeping of daily schedules, like the ones that most other elected officials routinely use, because of the sensitive nature of his duties, which include meeting for hours at a time with witnesses and whistleblowers about ongoing investigations.