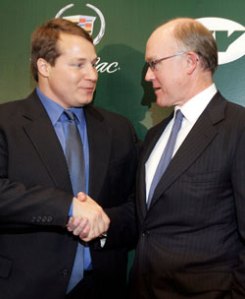 By handing out nearly $140M in free-agent contracts this offseason, the New York Jets have sent a bold message to the rest of the league: they're one of the worst-run teams in football.
Unsurprisingly, their moves have met with general approval in New York, where even the most ill-advised spending sprees are typically embraced with open arms by people who believe that buying is trying. Amazingly, the nearly endless array of high-priced free-agent flops over the last 15 years has done little to dent this illogic. Now, as then, the quick-fix allure of free agency remains strong.
But the plain truth is that, since its inception in 1993, free agency has served chiefly as a means by which bad teams become worse and head coaches become studio commentators. The problem is two-fold: great players never hit the open market, and the middling types who are available come at highly inflated prices as a result of overbidding by desperate, downtrodden teams like, well, the Jets. In the overwhelming majority of cases, free agents belong to two categories: those who have not achieved anything of note in the league and those who, having achieved something, are now too old, too injured, too ineffective, or too troublesome to keep at market rates. With that in mind, let's have a look at what the Jets got for Woody Johnson's money:
Alan Faneca, Guard. There is no question that the Jets were in desperate need of help at left guard, where they exacerbated their mismanagement of the Pete Kendall situation by refusing to trade for or sign an adequate replacement. Enter 31-year-old Alan Faneca, the seven-time pro-bowl nominee whom the Jets signed to a five-year $40 million contract complete with $22 million in guaranteed money. By all indications, there was a time when Faneca was worth that kind of money. But unfortunately for the Jets, that time was about three years ago. Faneca will turn 32 this season and is now clearly in decline. Ironically, in their haste to dump disappointing DT Dewayne Robertson, the Jets apparently forgot that Robertson's only noteworthy performance in New York came against Faneca and the Steelers' interior line, which he beat for two-and-a-half sacks in one of four Jet wins last season. The Bottom line: although Faneca likely has enough left to improve the Jets' running game, he is nothing short of a liability in pass protection, where the Jets are in dire need of an upgrade. A serious overpay.
Calvin Pace, Linebacker. Two days after signing Faneca, the Jets handed $22 million in guarantees to Calvin Pace, the former draft bust who suddenly resurrected his career in 2007, when the Arizona Cardinals switched to the 3-4 defense. The Pace signing, perhaps more than any other, illustrates the lunacy of free agency.
Not one year removed from virtual anonymity, Pace is now among the highest-paid linebackers in NFL history despite having started less than half his team's games over the last five seasons. If you are wondering how this paltry resume could give rise to such a ridiculous contract, you need look only to his primary suitors. As is so often true in free agency, the big players in the Pace sweepstakes were league doormats desperate to make a quantum leap. None of the successful franchises was involved with him. Why? Pace just isn't that good. In fact, there's little reason to believe that he's any better than what the Jets already have in Bryan Thomas.
Consider the similarities: Pace is listed at 6'4" and 272 pounds; Thomas, at 6'4" and 266 pounds. Like Thomas, Pace was a first-round draft choice at defensive end. Also like Thomas, Pace continually failed to crack the starting lineup; was roundly considered a draft bust; enjoyed success only for one season, when he was moved to 3-4 linebacker; and parlayed that one successful season into a lucrative contract. The Jets almost certainly regret the Thomas contract. Will they feel the same way about the Pace contract in a year? The bottom line: a serious overpay.
Kris Jenkins, Nose Tackle. The Jets also threw $35 million—-more than half of it guaranteed–at Kris Jenkins, late of the Carolina Panthers. Once a premier defensive tackle, Jenkins has been slowed in recent years by season-ending shoulder and knee injuries that cost him a total of 27 games in 2004 2005.
Still, he is only 28 and has answered the injury concerns by playing in every game over the last two seasons. Thus, the ultimate question is whether the 335-pound (read: 350-pound) Jenkins can fill the Jets' glaring need at nose tackle. Although he possesses ideal size for the position, Jenkins has never played nose tackle in the NFL and therefore has no experience in a two-gap system. In other words, the Jets are once again trying to convert a 4-3 player to a 3-4 system.
Given their disastrous history in this regard (See Vilma, Robertson, and Ellis), one wonders why they would dare attempt it again—especially at such a steep price. The bottom line: a serious gamble on a player whose risks may outweigh his upside.
The rest of the haul. The Jets also signed tackle Damien Woody to a five-year contract for $25 million. Woody, who will turn 31 this season, is a versatile if unspectacular lineman who spent the last four seasons with the Detroit Lions. He can play every position on the line except left tackle and was surprisingly credible for the Lions at right tackle, where he figures to start for the Jets in 2008.
Tight end Bubba Franks is now a Jet, as well, having signing a one-year contract for $1.65 million. Although Franks presents little financial risk, one wonders why the Jets bothered to bring him here. Of all the Jets signees, Franks is the closest to being washed up. He was recently cut by the Packers and is coming off a career-low reception total.
The bottom line: these are marginal players who are unlikely to make much of a difference.
In the end, these moves are precisely what they purport to be: desperate tacks taken by desperate men trying to save a sinking ship. Their plan has failed, and they know it. In fact, the air of panic surrounding these moves was so palpable that owner Woody Johnson saw fit to emerge from seemingly perpetual seclusion to make an unsolicited, unnecessary, and downright bizarre proclamation: that both Eric Mangini and Mike Tannenbaum would remain with the Jets through 2009 regardless of what happens in the next two seasons.
Now, Woody Johnson has all the social facility of your average math-club president, so you can be excused if you didn't understand the purport of his decree. But make no mistake: it was simply a new iteration of the dreaded "vote of confidence," and it is no less lethal for Johnson's awkwardness in expressing it.
The coded, awkward message is clear: Win now. Or else.