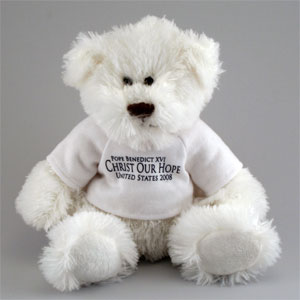 It's too early to tell how many out-of-towners will come to the city for Pope Benedict XVI's visit, but everyone from pedicab drivers to butchers are clamoring for a piece of the pope-tourism pie.
Though only 57,000 tickets are available for the pontiff's mass at Yankee Stadium, the city's official tourism company NYC & Co. is expecting "people from around the country, and international visitors, to come and experience the papal visit as well," said agency spokesperson Tiffany Townsend.
In anticipation of the hordes, all kinds of businesses are whipping out pope-related products or deals to appeal to the devoutly Catholic. Or devoutly kitsch.
Souvenir merchants are peddling $5 pope baseball caps in Times Square. Banners proclaiming "New York Welcomes You" hang on lampposts in midtown around St. Patrick's Cathedral. (Goya must have footed the bill for these since the canned food company's corporate logo appears semi-discreetly below the image of his holiness waving.)
Uptown, one of the two remaining relics of Yorkville during its German heyday, the Heidelberg restaurant, is offering an $18.95 "Pope Special" meal of Weisswurst, Franziskaner, and Weissbeer—two sausages, German potato salad, sauerkraut and beer.
The 70-year-old Schaller and Weber butcher one door down has conceived a special sausage sandwich for the pontiff. Owner Ralph E. Schaller is rolling out the $5 dollar "Popewich"—a paddy made of vicewurst and bratwurst sausage between a pretzel—today.
Mr. Schaller hopes the pope's arrival will be (an increasingly rare) opportunity for the German population of the city to rally around their national identity, especially the "older people who are proud of their tradition."
Even the Archdiocese of New York is hoping to recoup the money it will spend hosting the pope through sales of officially sanctioned merchandise.
For $25 you can buy a trendy baseball T-shirt with Pope Benedict the XVI emblazoned on the back. If it were on the shelf of Urban Outfitters, it might be pseudo-subversive in the worn-out Che Guevara T-shirt sort of way, but it's hard to figure out whom the church is trying to target with this stuff.
A plush white teddy bear wearing a shirt that reads:
"Pope Benedict the XVI/Christ our Hope/United States 2008," can be snapped up for $20.
Who needs God's love when you have a cuddly stuffed animal to keep you warm at night?
Selling papal memorabilia probably dates back to the days when the church sold indulgences, but the Archdiocese of New York only started doing it in 1995 when Pope John Paul II visited.
The church struck a decidedly modern licensing deal with a jewelry company to manufacture gold- and silver-plated re-creations of the Vatican Library's jewelry collection, to be sold exclusively at Macy's for between $12 and $75.
But the church did have the good taste to reject pope-on-a-rope soap, pope sunglasses and a tall white liturgical headdress shaped like a miter called the "Vatican Visor" for their official line of merchandise, according to a Sept. 20, 1995, article in The New York Times.
"People were trying to get us interested in papal coffee mugs and foam rubber miters," the Rev. Leslie Ivers, director of the New York Archdiocese's office for the papal visit, told The Times. "These are things that we don't think are in good taste."
Standards must have relaxed since then, because a Pope Benedict XVI travel mug can be purchased on the official merchandise Web site.
Whether the city gets an influx of tourists to coincide with the pontiff's visit is yet to be seen, it seems like there are already enough around to sustain the sector and buy some Pope 2008 gear.
We spoke to a few cops in Times Square last night about whether they had noticed more European or American visitors in town than usual, or any other overt signs of "pope tourism."
"It's springtime in Manhattan. This is what it's always like," one said of the mobs.
Ms. Townsend said hotel occupancy rates are up 12 percent from the same period last year.
The Mariott Marquis is projecting an occupancy rate in the high 90s to 100 percent in April, said hotel spokesperson Kathy Duffy. She was not aware of any specific groups related to the pope's visit at the 12 Mariott branches in the city, but "it's looking like a busy weekend in any case," with most hotels at 80 to 90 percent occupancy.