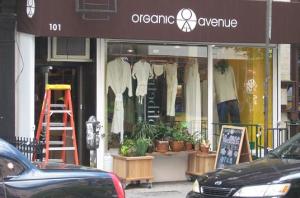 I stumbled into my first class in Environmental Politics at SUNY/Buffalo in the Fall of 1975 and first went to work for the federal Environmental Protection Agency (EPA) in 1977, and if you told me back then that thirty years later they would replace pickles and blintzes with eco-fashion on the Lower East Side—I would have thought you were nuts. I also would not have had the slightest idea what an eco-fashion was.
Fortunately, Sara Schonhardt, a graduate student at Columbia University, joins me on this piece, and helps explain what it means to shop green.
It turns out that New York City is fast developing a green shopping district. To learn more about green commerce in New York City checkout the Green Apple Map.
Venture into many of the small shops between East Houston and Delancey and you're likely to find a new world of environmentally friendly fare, from leather-less shoes to organic stockings to dairy-free cheesecake.
As Jill Fehrenbacher, a green-design consultant and graduate of Columbia's Graduate School of Architecture and Urban Planning, told us by e-mail: "I live in the lower east side, and I think my little neighborhood is the center of the universe for eco-friendly shopping. Within a three block radius we have three eco-friendly clothing boutiques – Kaight, Ekovaruhuset and Organic Avenue; a vegan shoe store, Moo Shoes; Whole Foods Market; and tons of vegetarian/vegan restaurants, including Teany, Tien Garden and Babycakes."
Fehrenbacher, who founded Inhabitat.com, a blog devoted to tracking innovations in sustainable design, says being green is about being conscious of one's consumption and the impact one's lifestyle has on the planet.
Denise Mari, co-founder of Organic Avenue, says the declining state of the planet shows the necessity of promoting organic, healthy living. "We like to blow conceptions of what raw, organic and vegan means."
The native New Yorker says the city is warming up to an environmentally friendly lifestyle and supporting shops like Organic Avenue, which sells hemp and organic clothing, raw food, live produce and hosts "consciousness-raising events."
In a March 6 interview with a reporter on the release of the 2008 Zagat Shopping Guide, Nina Zagat, the guide's co-founder, said: "One of the things we found this year is how important it is to New Yorkers that the places they shop are ecologically sound." Seventy-six percent of voters said they desire shops that are eco-friendly. So among the 2,463 stores this year's Zagat Guide highlights, several sell "green" goods.
Eco-friendly designers include Donna Karan and Ekovaruhuset, both with boutiques in New York. Karan's UrbanZen boutique on Greenwich Street sells high-end green fashions, while Ekovaruhuset's line was featured at New York Fashion week in February.
The Zagat Guide also mentions Gominyc in the East Village, which sells organic cotton jeans and tops, vegetable-tanned leather shoes, and household items made from recycled goods. The shop's unofficial motto: "It's not cheesy being green."
Del Forte Denim, sold in shops on the Lower East Side, makes 100 percent organic cotton jeans and has partnered with The Sustainable Cotton Project, which builds bridges between farmers, manufacturers and consumers of certified, organically grown cotton.
The eco-fashion drive gained prominence in 2006, when designer and animal-rights activist Stella McCartney launched a vegan-friendly line of accessories she calls cruelty free, meaning nothing is made using leather or animal products.
"I'm not trying to take over the world, but I do want to show that accessories can be made from a more ethical viewpoint – and can be sexy and cool," McCartney told Women's Wear Daily in an interview in 2006.
On April 24, Emerging Green Builders, a committee of the United States Green Building Council will host Project Earth Day, a fashion show dedicated to the promotion of "green design, innovation and environmental responsibility."
What are the specifics of green fashion? It's a pretty wide-ranging definition that varies by company. Here are some of the factors that help define green fashion:
– Cruelty-free (vegan friendly) = made without the use of animal products.
– Eco-friendly = recycled clothing, clothing made from biodegradable, sustainable material.
– Carbon neutral = production offsets the clothing's carbon footprint.
– Campaign-based = clothing that seeks to promote a message about climate change.
Designer Monique Péan is an example of the latter. She says she aims to raise awareness about the human impact on climate change through her jewelry collection, which utilizes animal products purchased from subsistence hunters in Shishmaref, Alaska, where melting sea ice threatens human and animal settlements.
Why does this matter? Is all of this just some of the usual trendy nonsense, or does it have substantive meaning? I think it matters, because the market matters. The success of these businesses is an indication that environmental awareness is growing. Sustainability is part of the language of commerce. Businesses seek a "green image" because it helps them make money. It helps them make money because it is a sign of a sound, well managed business. The message to consumers is: "If that store cares about the planet, maybe they will care about me. Maybe they won't rob me." It also conveys idealism and a sort of wholesomeness—and while that doesn't appeal to everyone, it does increase consumer attraction to a store or product.
The other reason it matters is, that just like that ancient time before we had a bank, drugstore, and cappuccino place on every other block, districts make cities unique and attract people to them. It looks like parts of the Lower East Side stretching into the East Village are becoming a green shopping district. A green business district is one more stop on those double-decker busses and a way to suck more of those Euros, yen and yuan out of the wallets of tourists. Let's face it, the diversity and street life of this city is what attracts people here—and green shopping can do its part.