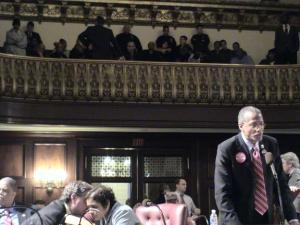 Here's a shot of Manhattan City Councilman Robert Jackson seconds before Christine Quinn ordered the balcony cleared of the boisterous protesters who were yelling about the Harlem rezoning the Council was about to pass.
"Jackson you're a snake. Jackson, you're a sellout to your people," one women yelled down from the balcony. Another man yelled out, "Uncle Tom!"
(It should be noted that the rezoning in question was actually a fairly significant compromise between the city and some Harlem preservationists. Forty-eight percent of the housing is be "affordable," with a mechanism to make it easier for people who are already residents to buy their homes.)
The balcony was eventually cleared without too much of a fuss, and without disturbing Kendall Stewart. More pictures here.