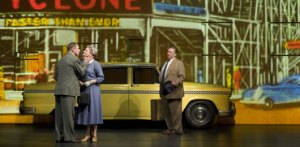 And so, back to the '50s (again), with the consciously modest Broadway musical A Catered Affair.
Modesty doesn't really suit Broadway; it implies "good taste," discretion, refinement, art—Stephen Sondheim. The British director of A Catered Affair, John Doyle (of the recent minimalist Broadway revivals of Mr. Sondheim's Company and Sweeney Todd), has treated what's essentially a wheezing old potboiler as if it were a mini-opera. It's a rare thing on Broadway in that sense: a tearjerker that induces no tears.
"Resigning yourself to small is sad," goes a peculiarly forced quip in the show. "Requesting it is tragic." Tragic? The line belongs to gay Uncle Winston, played by Harvey Fierstein, who's arguing the case for big wedding receptions. (Mr. Fierstein, who wrote the script, is also one of the show's lead producers). The original version of A Catered Affair—on which he based the book—doesn't have a gay uncle. It sure does now.
INSPIRED BY PADDY Chayefsky's 1955 TV drama and the subsequent movie written by Gore Vidal (famously starring Bette Davis slumming it as a working-class Bronx housewife married to Ernest Borgnine), the musical's pedigree seems solid enough. (Chayefsky's far superior work includes the movie Network; Gore Vidal can speak for himself.) Even on the crest of the current tsunami wave of '50s nostalgia, however, A Catered Affair is a bizarre choice for a Broadway musical. This solemn melodrama about a glum housewife insisting that her daughter have an expensive catered wedding has aged badly. There have to be other things in life—yes?
There's Bridezilla!—the reality TV show I like to catch about monster brides and their ludicrously lavish weddings. A Catered Affair is more like a perverse case of Mother of Bridezilla!—without the pleasures of camp, alas, in spite of Harvey Fierstein's best efforts.
Mr. Doyle's mannered, emotionally repressed production exists in the pseudo-reality of drab, old-fashioned kitchen-sink drama. Real scrambled eggs are cooked onstage, a little too quickly, by Faith Prince's plain Aggie for her cowed husband, Tom, the cab driver (played by Tom Wopat in clean working clothes and a new flat cap).
In its passé way, A Catered Affair is rebelling against Disney and the dehumanized Broadway of special effects. The kitchen-sink genre of working-class social realism was introduced in England in 1956 with John Osborne's Look Back in Anger (which didn't in fact have a kitchen sink in it). Osborne was rebelling against the domination of middle-class Noel Coward drawing-room dramas. Sir John Gielgud, a theater aristocrat fearing his number was up with the new lower-class realism, recalled seeing Arnold Wesker's Roots in the '50s when they cooked a real meal onstage during the second act—"onions and a frightful stew." During the meal, a little old lady went up to an usher and enquired, "Isn't there a rather curious smell in this theater?"
And the usher very politely replied, "It's the play, madam."
A CATERED AFFAIR is stuck in an air-brushed form of social realism for all 90 intermissionless minutes. Adding Machine—the brilliant, uncompromising new musical Off Broadway that I raved about last week—is exactly the same length. What a difference! A Catered Affair isn't new in any way, least of all daring. Its story of a miserable mother projecting onto her daughter the dream wedding she never had is no domestic tragedy. It's soap. Why is everyone connected with the show pretending otherwise?
John Bucchino's score reinforces the production's wan air of self-conscious refinement, but in truth, it only leaves us wishing Faith Prince would burst out of her imposed Sondheimian straightjacket and sing. (Aggie's prolonged crying jag is no substitute for song; nor is her silent epiphany about her loveless marriage as dawn slowly breaks.) The accomplished Tom Wopat ought to have been given more than one, very belated, solo. The show's leads are musically undernourished.
An admired cabaret artist making his Broadway debut, Mr. Bucchino is too genteel and restrained for a Bronx melodrama. But then, Mr. Doyle's muted production doesn't try to convey the ethnic Catholic Irishness of the original piece. (It's been blanded out.) Mr. Bucchino is a Sondheimian (and his orchestrator is Mr. Sondheim's longtime collaborator, Jonathan Tunick). But he seriously lacks the Sondheim flair with lyrics. (A sample: "It's easy to say/ It's easy to do/ I've never loved anything/ like I love you. …")
John Bucchino shouldn't take the rap. If anyone should, it's the producer, writer and beloved star of A Catered Affair, Harvey Fierstein. This is far from his finest hour.