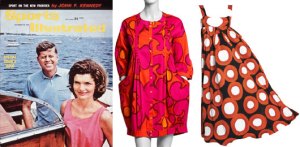 Last Friday, the windows of various H&M outlets across the city were transformed into a brain-boggling, Austin Powers-dazzle of color. Orange, yellow, red, and grape soda-purple, exploded in 60s-esque chaos: a swingy hot-pink-and-orange trapeze dress, an ankle-length high-waist skirt in olive green with tangerine lava-lamp bubbles, a canary yellow and purple tunic.
Marimekko has officially arrived to the masses.
H&M, which opened its first New York City shop in 2000, began collaborating with high-end designers in 2004, in order to bring some cachet to its racks of cute and cheap clothing. (The thinking usually goes like this: That skirt you pick up in May might be falling apart by August, but if you only pay 19 bucks for it, who cares?) Each name-brand line led to a sudden shopping frenzy: Karl Lagerfeld's entire stock sold out at some stores in an hour; lines around the block formed to snatch Stella McCartney's stuff; same for Roberto Cavalli and even Madonna's looks from last year.
Marimekko is a different kind of choice for the Swedish chain, a departure from the hot-but-too-expensive designs of Cavalli and Lagerfeld to the vintage-but-too-expensive looks of more classic designers. The Finnish company first got big when Jacqueline Kennedy bought eight Marimekko (which translates to "Mary's Dress") dresses to wear throughout the 1960 presidential campaign. After a brief period of near-extinction in the early '90s, the signature Unikko poppy print—as recognizable to some as a Gucci stripe or a Louboutin red sole—started appearing again on everything from tea towels to expensive stationary. Thanks to stores like Anthropologie (which currently carries one juicy fruit-printed Marimekko dress for $178 and another for $158), which tapped into a girls-who-can't-resist-a-brightly-colored-print-dress market, the company reported net sales last year of $116 million.
H&M's new line is, sneakily, "A Tribute to Marimekko", which means that the clothes and accessories are not exactly Marimekko. The store's public relations manager Jennifer Uglialoro explained that "the idea came from designers in H&M's women's wear department who have long admired Marimekko's patterns. … They have simply licensed their patterns to H&M." In other words, H&M paid Marimekko to copy their prints, and then produced some cheap clothes of H&M's design. Hey, we can live with that!
The 70-piece collection—more reasonably priced than the official collaborations that preceded it (a T-shirt with the distinctive black-and-white spiral was $19.90, dresses were under 50 bucks)—was whisked off racks at the Fifth Avenue and 18th Street H&M just three hours after going on sale. Anis, a 19-year-old design student at Parsons, had an armful of silky yellow and purple garments as she perused the racks of accessories (which including bangles, sunglass cases and hats). "I love Marimekko prints!" she squealed. A mother dressed in muted gray held up a pair of short-shorts in blinding fuchsia; her daughter had instructed her to pick things up for spring. The swimsuits, priced between $30 and $35, seemed to be the most popular items (H&M wouldn't release numbers, but a tired-looking cashier reported "things are selling like crazy").
"I'm so psyched about finding these," said Claire Courtade, 25, holding up a pink-and-orange one-piece in one hand, and a black-and-white bikini in the other. "Aren't they cute? I have a long torso and I usually have to shop at J. Crew." Also in Ms. Courtade's hand was a somewhat confusing item: a vintagey looking "romper" one-piece in red, black and white. The Observer had been looking at it for a very long time, trying to figure out where on earth one would wear such a thing. (This is true too of the somewhat too-'60's printed pants, big button blouses and hard-to-wear-long slinky halter dresses). "I think it's for sunbathing on your front porch?" said Ms. Courtade, a recent transplant from Austin (which, we assume, has more front porches than Manhattan). "Or, I don't know … for wearing on your fire escape?" We skipped the romper (good luck, Claire!) in favor of a big orange, white and black print scarf ($24.90) and that aforementioned swirly black-and-white T-shirt. When they wear out at the end of summer—and they will!—we'll check out H&M's next designer coup: Comme des Garçons' founder and head designer Rei Kawakubo will be doing a limited fall line.
svilkomerson@observer.com