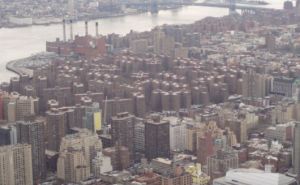 New York City Councilman and Peter Cooper Village resident Dan Garodnick helped Stuy Town (square) dance its way toward landmark designation on Saturday night, as tenants of the 110-building, World War II-era housing complex officially (re)launched their landmarks campaign.
We stopped by the party after 6 before any real dancing had begun, but the Gramercy Park church hall was already packed with mainly elderly residents decked out in denim, flannel, and other Western regalia, fuelling up on dinner before the main event.
Gaining protective status for Stuy Town is not a new idea. The Historic Districts Council first endorsed the proposal seven years ago and five years later told the Tenants Association that the complex was eligible for honorary state landmark status.
But the square dance was the first push to get the landmarking process off the ground since Tishman Speyer paid $5.4 billion for the planned community in 2006, though the tenants we spoke to Saturday night insisted the campaign is not related to their new landlord.
"I don't connect this to Tishman Speyer," Mr. Garodnick, clad in apropos jeans, told us.
"The landmarking effort in Stuy Town is based on its unique configuration and contribution to the social history of New York City. Even if you were to landmark the buildings it doesn't take away the developers' right to [charge market-rate]."
But it would prevent Tishman from building a big luxury condo in some of Stuy Town's underutilized public space, as other developers who've bought planned communities in the city have done. Simeon Bankoff, the executive director of the Historic Districts Council, said preserving the configuration and layout is probably driving the "renewed push for landmarking."
"They are fairly plain buildings so this is not about the windows," he said.