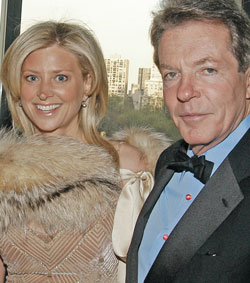 When very rich New Yorkers put their plush Manhattan real estate on the market for many millions more than they paid, it's spectacularly easy to really loathe the sellers.
(Consider that liquor heir Edgar Bronfman Jr. bought a Fifth Avenue co-op this year for $19.5 million and put it on the market a week later for $24 million; or that a handsome young couple just began asking $18 million for a Little Italy house that cost them $1,512,000 in 2004.)
But it's impossible to begrudge Dan Lufkin, the well-liked investor and longtime environmental philanthropist, for putting his heavenly five-bedroom spread at 455 Central Park West on the market this week for $17.5 million, just about three times what he paid three years ago.
For one thing, that's because Mr. Lufkin is the type of kindly septuagenarian who uses your first name a lot in conversation ("well, Max, that's right") and says things like "dynamite," "really super" and "a terrific gal," especially when he's describing his young wife, Cynthia, who began battling breast cancer a few years ago, seven months into a difficult pregnancy.
"You cannot get up sour in that apartment, because it's so beautiful, and it's so encompassing," Mr. Lufkin said. "You can't get up and say, 'Goddamn it, what's going on here?' You say, 'Jesus, what a nice day.'"
Besides the likable Lufkin couple themselves, there's also the fact that their apartment happens to be a converted 19th-century chapel. Back in 2005, Mr. Lufkin paid $546,900 for a downstairs maid's room and $5.775 million for the triplex chapel space in the old New York Cancer Hospital, which a Chicago developer was turning into condos.
"We said, 'Wait a minute, stop. Don't do a thing.' And we basically tore out what they'd done," Mr. Lufkin said. "We started with the idea of restoring the old church, just saving it"—its antique French oak floors, arched windows on the park, gold-leafed walls, stone columns, Gothic fireplace and, especially, 28-foot-high vaulted living room.
When asked if the three $15,000 globe lamps hanging from that main chapel space will leave the apartment when the family goes, Mr. Lufkin seemed to have an epiphany. "No! Nor will the televisions, nor the sound system—all that, in my judgment, goes in the apartment. I am not about to start tearing it apart."
And when pressed about his renovation costs, he said, "I don't think you'd be wrong if you said $3 to $5 million." That still leaves enough for a nice profit, although profit isn't why the Lufkins are leaving. "Her lungs are not 100 percent, so we decided to spend a year in the country," Mr. Lufkin said about his wife. "And we liked it a lot."
The listing broker is Sotheby's International Realty's Nikki Field, who wouldn't comment for the story.