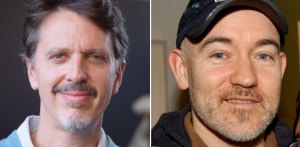 Heroes creator Tim Kring is collaborating with literary critic and novelist Dale Peck on a sci-fi/alternative-history trilogy that was sold at auction to Crown yesterday for an advance said to be worth a staggering $3 million.
According to an industry source, the book is set in America, and runs from the 1960s to the near future. The protagonist is a man named Chandler Forrest whose participation in LSD experiments administered by the C.I.A. has given him superpowers.
Richard Abate, who works out of the New York office of the talent agency Endeavor, sold world rights to editor Sean Desmond on the basis of 25 pages of material and what was described as a video trailer that editors had to log on to a Web site to see.
Crown is a unit of Random House.
UPDATE: Richard Abate just called to say that the trilogy, which we identified as a "sci-fi/alternative-history trilogy" based on what someone who'd seen the proposal told us, is only going to have a little bit of sci-fi in it. Mostly alternative history, in other words.