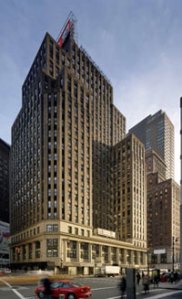 Newsweek may be reconsidering its long-planned move from midtown Manhattan to 100 Church Street, following months of negotiations.
"Newsweek did go out and look at some alternative stuff," according to a well-placed source. "They still are focused on 100 Church, but the market has shifted a bit, and they still wanted to see what else is out there."
"They're a cost-conscious tenant," the source added.
The fact that Newsweek is still shopping around nearly three months after its intent to move into 100 Church Street was reported as a done deal is a startling about-face.
In early February, sources reported that a lease was out for Newsweek to take 200,000 square feet at the building, owned by Alex Sapir. The lease was expected to be signed within a few weeks.
The impending move was newsworthy not just because of the size of the deal, but also because Newsweek had been based in midtown Manhattan for decades, first at 444 Madison Avenue and then at 1175 Broadway, both of which came to be known, in turn, as "the Newsweek Building."
But from a financial standpoint, the pending move made sense. Asking rents for available space at 100 Church run from $48 a square foot to $75 per square foot on the 21st story, the top floor, according to mrofficespace.com. That's quite a discount from midtown-Manhattan-size rents, which regularly hover near and even exceed $100 a square foot.
Newsweek remaining in its current digs is probably not an option. Not only does the magazine's lease expire sometime this year, but Newsweek Building owner Joseph Moinian is planning a radical renovation, complete with a name change to "3 Columbus Circle" and, presumably, a corresponding rent hike.
Newsweek's broker did not respond to requests for comment, and magazine spokeswoman Jan Angilella would only say, "[W]e are looking at several places, and Church Street is one of them."
Mr. Sapir also declined comment.