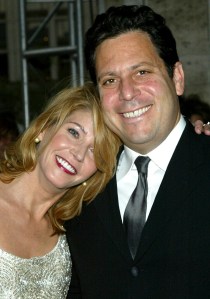 Today's Page Six features an unusual phrase rarely seen in its home paper: "The Post regrets the error."
The normally biting gossip column regrets its report from March 25 that Cashmere Mafia creator Darren Star had "swiped" the premise for his ABC show from his former Sex and the City collaborator (and Observer alum) Candace Bushnell, who was developing her book Lipstick Jungle into a very similar show for NBC. (The March 25th item is cached here.) Today, the Post says:
WE reported on March 25 that TV producer Darren Star swiped the idea for "Cashmere Mafia" from Candace Bushnell, producer of "Lipstick Jungle." In fact, we were mistaken. Star was approached with the idea by ABC. The two shows were conceived independently.
What's all the more unusual is that they don't correct their original item from April 30, 2007 (referenced in the March 25th item) that stated:
Sources said Bushnell very much wanted to work with Star on the project for NBC, but her agents couldn't come to an agreement with him. Because Star couldn't come to terms with her over "Jungle," he re-created his own version of Bushnell's pilot, "Cashmere Mafia," and sold it to ABC. Pilots for both shows could be picked up next month for the networks' fall schedules.
"Candace was actually living at Darren's house when she was writing the pilot for her show," said our source. "Candace called him to say how happy she was that NBC picked up her script, and Darren told her, 'Oh, yeah, I have a similar project at ABC.' She was devastated."
Deadline Hollywood's Nikki Finke had reported on the shows' related origins as far back as January 9, 2007, but the story went wide in a New York Times 'Style' article about Ms. Bushnell's show on October 21, 2007 in which reporter Allen Salkin wrote that after selling her pilot to NBC, "[Ms. Bushnell] remembers thinking: I'm so surprised Darren hasn't called me." Salkin continued:
"So I called him," she said. "His voice sounded weird on the phone. He said, 'I got a show picked up, too.'"
"I said, 'What is it about?' Ms. Bushnell recalled. 
"He said, 'It's a similarly themed show.' He said, 'It's similar to Lipstick Jungle.'"
"I said, 'Ooo-kaaay.'" 
Ms. Bushnell, speaking during an interview recently, acknowledged that she was surprised because Mr. Star had not told her he was working on such a show, even though he had originally bid for the rights to "Lipstick Jungle."
Mr. Star's show is called "Cashmere Mafia." It is scheduled to make its debut on ABC on Nov. 27, and has many superficial similarities to "Lipstick Jungle," scheduled for NBC early next year. 
But Ms. Bushnell's friends are not so circumspect in describing her reaction. "She felt betrayed" by Mr. Star, said Jay McInerney, the author, who has known Ms. Bushnell for two decades.
The schism was also mentioned in Sara Vilkomerson's Observer story "Carrie's Sister" from January 29, 2008.
So, why the correction now?